BOOM! Studios October Previews for December Shipping 2010
From the press release:

STAN LEE'S STARBORN #1 (A)
STAN LEE'S STARBORN #1 (B)
Written by Chris Roberson
Drawn by Khary Randolph
SC, 32 pgs, FC, SRP: $3.99
Diamond Code: OCT100875
STAN'S BACK AS THE PUBLISHING EVENT OF THE YEAR CONTINUES! The most colossal creative force in the history of comics, Stan Lee, teams up with BOOM! Studios to deliver a brand new line of superhero comics, marking Stan's explosive return to the direct market! Stan joins with critically-acclaimed writer Chris Roberson (iZOMBIE, CINDERELLA: FROM FABLETOWN WITH LOVE) and fan-favorite artist Khary Randolph (SPIDER-MAN) to present Stan Lee's third, epic new ongoing series, STARBORN! Benjamin Warner is a failed fantasy novelist, always dreaming of far off worlds and exciting adventures. But when a familiar face reenters his life, and devastating trouble follows, Benjamin learns his rejected stories weren't fiction but memories of his home planet! Benjamin's forgotten past comes crashing down around him as he finds himself at the center of a galactic war and is forced to face the truth that he is… not of this world! Featuring a cover by fan-favorite artist Humberto Ramos (X-MEN, AMAZING SPIDER-MAN)!
---
STAN LEE'S SOLDIER ZERO #3 (A)
STAN LEE'S SOLDIER ZERO #3 (B)
Written by Paul Cornell
Drawn by Javier Pina
SC, 32 pgs, FC, SRP: $3.99
Diamond Code: OCT100873
STAN'S BACK! THE PUBLISHING EVENT OF THE YEAR! Stan Lee. Paul Cornell. Javier Pina. The hot new ongoing series SOLDIER ZERO continues! Stewart Travers continues battling an enemy alien force while trying to save the love of his life — but he also has an even more challenging hurdle that he must overcome…himself. The breakout hit series from the biggest names in comics continues!
---
STAN LEE'S THE TRAVELER #2 (A)
STAN LEE'S THE TRAVELER #2 (B)
Written by Mark Waid
Drawn by Chad Hardin
SC, 32 pgs, FC, SRP: $3.99
Diamond Code: OCT100881
STAN'S BACK! THE PUBLISHING EVENT OF THE YEAR! Legendary comic creators Stan Lee and Mark Waid continue their hot new series featuring… a man out of time! With the city still under siege from the Split-Second Men, THE TRAVELER, must push his powers harder than ever before. With their plans shrouded in as much mystery as their origins, it's a race against time and space to prevent whatever cataclysm would be in store if they succeed! He calls himself the TRAVELER. He has the power to warp and bend time to his will. But who is he? Where has he come from? And more importantly: what is coming after him?
---
28 DAYS LATER #18
Written by Michael Alan Nelson
Drawn by Alejandro Aragon
SC, 24 pgs, FC, SRP: $3.99
Diamond Code: OCT100857
After everything that has happened, Selena has London in her sights. But what is waiting for her there? Is there a part of her past lurking in the shadows, capable of destroying all she has worked for? Sean Phillips continues his Eisner Award-nominated cover run!
---
THE AMORY WARS: IN KEEPING SECRETS OF SILENT EARTH: 3 #7
Written by Claudio Sanchez, Peter David
Drawn by Chris Burnham
SC, 24pgs, FC, SRP: $3.99
Diamond Code: OCT100858
Some thought this day would never come — Wilhelm Ryan must answer for his crimes against the keywork! But even as the cruel dictator faces judgment, the war is not over! Claudio may deny his fate in the upcoming struggle, but his fate shall not deny him! The saga from Coheed and Cambria frontman Claudio Sanchez and comics legend Peter David continues!
---
DO ANDROIDS DREAM OF ELECTRIC SHEEP? #19
Written by Philip K. Dick
Drawn by Tony Parker
SC, 32 pgs, FC, (19 of 24), SRP: $3.99
Diamond Code: OCT100860
The Eisner-nominated series from the book that inspired the movie BLADE RUNNER continues as Rick Deckard makes a decision that may be the biggest mistake of his life. Or it may also be the most enlightening experience of his life. There are only three renegade Nexus-6 androids left and you won't believe what happens next in Philip K. Dick's sci-fi masterpiece!
---
DRACULA: THE COMPANY OF MONSTERS #5
Written by Daryl Gregory, Kurt Busiek
Drawn by Scott Godlewski
SC, 32 pgs, FC, SRP: $3.99
Diamond Code: OCT100861
Brand New Arc! Great for new readers! Dracula begins to amass a terrifying army. But he's not the only one out for blood. With Dracula on the loose, the world's vampires have reawakened, and it is soon up to Vampire huntress Marta to stop Dracula's onslaught. The second arc of the ongoing horror series from the mind of Kurt Busiek begins here!
---
FARSCAPE #14 (Ongoing)
Written by Rockne S. O'Bannon, Keith R.A. DeCandido
Drawn by Will Sliney
SC, 32 pgs, FC, SRP: $3.99
Diamond Code: OCT100862
The "War for the Uncharted Territories" continues! Sikozu has walked a hard road to redemption. Her time on Moya has been an attempt to prove herself worthy of respect in the Uncharted Territories. Now she is in the middle of the greatest conflict the region has seen and it takes her straight towards…Scorpius. A sprawling new epic from Farscape show creator Rockne S. O'Bannon!
---
INCORRUPTIBLE #13 (A)
INCORRUPTIBLE #13 (B)
Written by Mark Waid
Drawn by Horacio Domingues
SC, 32 pgs, FC, SRP: $3.99
Diamond Code: OCT100863
New arc! Great for new readers! A startling revelation in this month's IRREDEEMABLE causes a shockwave that reverberates all the way to INCORRUPTIBLE and Max Damage!  Max and Jailbait face-off against some very dangerous surprise guests. We can say no more!  But be sure, this is a don't-miss issue of INCORRUPTIBLE, loyal readers.  The stakes have never been higher and the lines between good and evil have never been more blurred in the kick-off issue of this new arc!
---
IRREDEEMABLE #20 (A)
IRREDEEMABLE #20 (B)
Written by Mark Waid
Drawn by Peter Krause
SC, 32 pgs, FC, SRP: $3.99
Diamond Code: OCT100867
The secrets of the malicious alien race The Vespa are revealed. Earth hangs in the balance as their clandestine relationship with a fallen Paradigm member comes to the forefront. The Paradigm's past comes back to haunt them, Plutonian meets his match, and the fate of the world will never be the same! A new arc of the scorching hot, Eisner and Harvey-nominated IRREDEEMABLE kicks off here!
---
INCORRUPTIBLE VOL. 3 TPB
Written by Mark Waid
Drawn by Horacio Domingues
SC, 128 pgs, FC, SRP: $16.99
ISBN13: 978-1-60886-039-5
Diamond Code: OCT100866
Reformed supervillain Max Damage, and his sidekick Jailbait, travel to the ruins of Sky City. A vicious gang of Plutonian-worshipping white supremacists are wreaking havoc on the survivors and ruling with no mercy. But there's one thing they didn't count on…Max Damage. The key to victory may lie in the hands of Alana Patel, Plutonian's ex-girlfriend. But how will Max ally himself with Alana when she hasn't come close to forgetting about Max kidnapping and torturing her in his days as a villain? Don't miss the next chapter in this companion series to Mark Waid's Eisner and Harvey-nominated IRREDEEMABLE!
---
IRREDEEMABLE VOL. 5
Written by Mark Waid
Drawn by Peter Krause
SC, 128 pgs, FC, SRP: $16.99
ISBN13:978-1-60886-040-1
Diamond Code: OCT100869
The secret history of Hornet, who died at the hands of Plutonian, is finally revealed. The fallen Paradigm member had a plan-a fail safe-that puts all of Earth and the Plutonian in danger. And when Modeus' plans reach critical mass, the few remaining heroes of Earth are the only thing standing between civilization and ultimate chaos. There's a mad God backed up against a wall, and nobody is safe. Mark Waid's Eisner and Harvey-nominated, post-apocalyptic superhero saga continues in this volume!
---
ROBERT E. HOWARD'S HAWKS OF OUTREMER TPB
Written by Robert E. Howard, Michael Alan Nelson
Drawn by Damian Couceiro
SC, 128 pgs, FC, SRP: $12.99
ISBN13: 978-1-60886-041-8
Diamond Code: OCT100883
He is Cormac FitzGeoffrey, and he has no master. As a wandering warrior born and bred on battle, he's a renowned fighter, a ruthless adversary, and a man who is no stranger to the ways of violence and bloodshed. He counts his friends on one hand, so when Cormac learns that his most recent liege has been murdered, nothing will stop his quest for revenge. By oath, a path of vengeance will be marked with the blood of his enemies. Sword-swinging, berserker action in only the way Robert E. Howard could deliver! Featuring a cover by fan-favorite THE SAVAGE SWORD OF CONAN artist Joe Jusko!
---

DRAWING COMICS IS EASY! (EXCEPT WHEN IT'S HARD!) HC
Written by Alexa Kitchen
Drawn by Alexa Kitchen
SC, 32 pgs, FC, SRP: $19.99
ISBN13: 0-9710080-6-X
Diamond Code: OCT100884
BOOM! Town and Denis Kitchen Publishing bring you a perfect holiday stocking stuffer! "DRAWING COMICS IS EASY! (Except When It's Hard)" is an idiosyncratic and insightful how-to book about creating comics from the perspective of a 7 year old cartoonist prodigy, Alexa Kitchen. This 176 page hardcover book (with round corners) is intended to provide instruction to other kids but will entertain fans of all ages. Nominated for both Eisner and Harvey Awards when published (by far the youngest nominee for each), it has been praised by creators like Will Eisner, Neil Gaiman, Patrick McDonnell, Sergio Aragones and even R. Crumb! As a natural comic book genius Alexa Kitchen shows a wealth of knowledge beyond her years in this brilliantly simple look at
---

CHIP 'N DALE RESCUE RANGERS #1 (A)
CHIP 'N DALE RESCUE RANGERS #1 (B)
Written by Ian Brill
Drawn by Leonel Castellani
SC, 32 pgs, FC, SRP: $3.99
Diamond Code: OCT100886
It's the return of your favorite furry flatfoots in an all new original ongoing series! Coming on the heels of BOOM!'s bestselling DARKWING DUCK ongoing series, BOOM! brings you another piece of the Disney Afternoon Revolution with CHIP 'N DALE RESCUE RANGERS. Join DARKWING DUCK writer Ian Brill and MARVEL SUPERHERO SQUAD artist Leonel Castellani as they take the diminutive detectives on all new original adventure! This is the series that will have you singing that song you can never forget: "Sometimes some crimes go slipping through the cracks. But these two Gumshoes are picking up the slack. There's no case too big, no case too small, when you need help just call —Ch-ch-ch-Chip 'N Dale Rescue Rangers!"
---
CARS: THE ADVENTURES OF TOW MATER #6
Written by Patrick Rills & Allen Gladfelter
Drawn by Allen Gladfelter
SC, 32 pgs, FC, SRP: $2.99
Diamond Code: OCT100885
The Radiator Springs crew continues their epic search for the Lost Loot of the Gasket Gang. As their quest brings them to the ghost town of Jerome, our crew has no idea what traps and surprises await them. A red line of an adventure with Sally, Lightning McQueen, Tow Mater and their familiar foe, Bubba!
---
DARKWING DUCK #7 (A)
DARKWING DUCK #7 (B)
Written by Ian Brill
Drawn by James Silvani
SC, 32 pgs, FC, SRP: $3.99
Diamond Code: OCT100888
Experience the ongoing series that has fans "getting dangerous" across the nation! In this issue we have the sorcery showdown of the century! In one corner: the evil, Italian enchantress Magica de Spell! In the other corner: the enigmatic necromancer Morgana McCawber! Oh…yeah…and Darkwing Duck is in it too. Miss this issue at your peril!
---
DONALD DUCK AND FRIENDS #361
Written by Francois Corteggiani
Drawn by Comicup Studio
SC, 32 pgs, FC, SRP: $2.99
Diamond Code: OCT100894
After protecting his province from the tyranny of Shogun Scrooge as the legendary warrior Tekka-Don, Donald stumbles upon a village being savaged by sudden tsunamis! Will our hero be able to tame the tremendous tidal waves or will he just be a duck in a deluge? Find out this month in Part 3 of "Feathers of Fury!"
---
THE INCREDIBLES #17 (ONGOING)
Written by Landry Walker
Drawn by Marcio Takara
SC, 32 pgs, FC, SRP: $2.99
Diamond Code: OCT100897
Part 2 of "THE UNFORGIVABLES"! You've already seen fights, villains and a big explosion, so…how about BIGGER fights, DEADLIER villains and EVEN MORE explosions? That would be a good start, right? Years' worth of sinister machinations come crashing down on the Incredibles as the epic saga of THE UNFORGIVABLES continues!
---
MICKEY MOUSE AND FRIENDS #303
Written by Sergio Badino
Drawn by Giorgio Cavazzano
SC, 32 pgs, FC, SRP: $2.99
Diamond Code: OCT100899
It's a big day for Mickey Mouse when he gets a brand new car. It's sleek, stylish, top-of-the-line…and it also carries an amazing secret! Strap in with Mickey and Minnie for a joyride that begins innocently enough, but soon grows into a kooky, out-of-control caper across land, sea and air!
---
THE MUPPET SHOW COMIC BOOK #13
Written & Drawn by Roger Langridge
SC, 32 pgs, FC, SRP: $2.99
Diamond Code: OCT100901
It's a love-themed Muppet bonanza this issue as the Muppets begin their celebration of Valentine's Day. A singing gorilla captures the unlikely heart of Animal, a romance that sends shockwaves throughout the Muppet Theater. Join Roger Langridge as he continues his Eisner-nominated run on The Muppet Show!
---
TOY STORY: TALES FROM TOY CHEST #6
Written by Jesse Blaze Snider
Drawn by Tanya Roberts
SC, 32 pgs, FC, SRP: $2.99
Diamond Code: OCT100903
It's the day Buzz hoped would never come. Andy's affections are focused on a new toy, leaving the rest of the gang relegated to the shadows of the toy chest. But when Andy's behavior grows stranger and stranger, it becomes clear that this new toy is more than it seems!
---
UNCLE SCROOGE #398
Written by Bob Langhans
Drawn by José Maria Millet Lopez
SC, 32 pgs, FC, SRP: $2.99
Diamond Code: OCT100905
Scrooge McDuck's in-house inventor Gyro Gearloose has created a belt that allows the wearer to travel through time. And who better to test it out than someone Scrooge can absolutely trust not to muck things up…Launchpad Mcquack! This could get interesting as BOOM Kids! Brings you "Messes Become Successes" Part 3!
---
WALT DISNEY'S COMICS & STORIES #714
Written & Drawn by Andrea "Casty" Castellan
SC, 32 pgs, FC, SRP: $2.99
Diamond Code: OCT100907
It's the exciting conclusion of "The Menace from the Future!" When Mickey Mouse and Goofy fall into Pete's trap, they have only one chance left to stop a terrifying future from coming true! Too bad it depends on the help of a mysterious stranger. Can she even be trusted? Another epic adventure from modern Mickey master, Casty!
---
DARKWING DUCK CLASSICS VOL. 1 TPB
Written by John Blair Moore, Jim Bricker, Brian Swenlin, Kevin Campbell, Doug Gray
Drawn by John Blair Moore, Cosme Quartieri, Chris Allan, David Schwartz
SC, 160 pgs, FC, SRP: $14.99
ISBN13: 978-1-60886-654-0
Diamond Code: OCT100890
Collected for the first time ever! The original DARKWING DUCK series that fans have demanded! If you love the new DARKWING DUCK original BOOM! comic series, then you'll love these classic tales originally published while the show was on the air. That's right all you hardcore D.W. fans out there…here's your chance to rediscover the daring duck of mystery as he gets downright dangerous in his very first comic book escapades, not seen in over a decade! Delight as the Disney Afternoon Revolution takes you on trip down memory lane as Darkwing Duck battles his most famous foes, and learns the ropes of fatherhood all in this 160 page volume!
---
FINDING NEMO: LOSING DORY TPB
Written by: Mike Raicht & Brian Smith Drawn by Jake Myler
SC, 112 pgs, FC, SRP: $9.99
ISBN13: 978-1-60886-609-0
Diamond Code: OCT100895
"Fishnapped!" Dory is taken from the reef by a mysterious group and only her friends can save her. Join Marlin, Nemo and Gill as they embark on a quest to save Dory from her elusive captors. And what happens next will shock all the fish in the sea! The biggest selling DVD of all time comes to comics in a brand-new adventure that FINDING NEMO fans will be talking about for ages.
---
UNCLE SCROOGE: LIKE A HURRICANE TPB
Written by Paul Halas, Tom Anderson, Didier le Bornec, Doug Murray & Régis Maine
Drawn by Xavier Vives Mateu, José Maria Carreras, Cosme Quartieri, Wanda Gattino & José Cardona Blasi
SC, 128 pgs, FC, SRP: $9.99
ISBN13: 978-1-60886-601-4
Diamond Code: OCT100906
Life is once again like a hurricane…here in Duckburg! So you know what that means…DUCKTALES ARE BACK!!! Gear up for adventure as one of the most cherished, fan-favorite Disney franchises explodes back onto the comics page! Join Uncle Scrooge, Donald Duck, Huey, Dewey, Louie and of course Launchpad McQuack as they solve a few mysteries and maybe rewrite some history in action packed adventures never before seen in the US! The Disney Afternoon Revolution is here!
---
WIZARDS OF MICKEY VOL. 3: BATTLE FOR THE CROWN TPB
Written by Stefano Ambrosio
Drawn by Marco Gervasio, Marco Palazzi, Paul Murry
SC, 128 pgs, FC, SRP: $9.99
ISBN13: 978-1-60886-595-6
Diamond Code: OCT100908
The epic WIZARDS OF MICKEY saga culminates in a magic battle royale for the ages! The Phantom Blot's plan brings ultimate power within his grasp, but one sorcerer still stands in his way: Mickey Mouse! Also features the classic tale "The Sorcerer of Donnybrook Castle" drawn by Disney icon Paul Murry!
---
DISNEY'S HERO SQUAD VOL. 3: ULTRAHEROES: THE ULTIMATE THREAT TPB
Written by Giorgio Salati, Riccardo Secchi, Tito Faraci
Drawn by Ettore Gula, Roberta Migheli & Stefano Turconi
SC, 128 pgs, FC, SRP: $9.99
ISBN13: 978-1-60886-597-0
Diamond Code: OCT100891
The power of the Ultramachine has proven too much for the combined strength of the Ultraheroes and the Sinister 7. It's going to take an unlikely alliance to save the planet from certain doom! The ultrapod race has reached the finish line, and it all goes down here! Plus, after the battle is done, will the remaining heroes be prepared for the challenge that awaits them when a mysterious menace takes them back to school? It's the conclusion that you don't want to miss!
---


DON'T FORGET BOOM! STUDIOS COMICS
ARE ALSO AVAILABLE THROUGH THE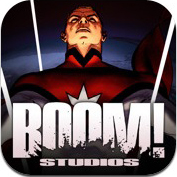 BOOM! STUDIOS COMICS APP!





BOOM! Studios Digital Comics can also be found
through any of these fine digital vendors!
Related posts: