Papercutz Announces Garfield & Co!
From the press release:
Everyone's Favorite Lasagna-Loving Cat is Back with His New Series:
Graphic Novels from PAPERCUTZ!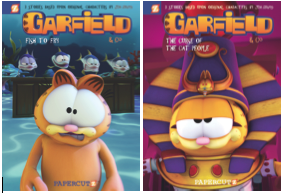 Papercutz, the premiere publisher of such popular graphic novel series as BIONICLE, DISNEY FAIRIES, GERONIMO STILTON, HARDY BOYS, NANCY DREW, THE SMURFS, PAPERCUTZ SLICES and TALES FROM THE CRYPT releases GARFIELD #Co graphic novels #1 "Fish to Fry" and #2 "The Curse of the Cat People" on May 24th, 2011.
GARFIELD & Co presents stories from Cartoon Network's hit series The Garfield Show in comic format. GARFIELD & Co is one of Cartoon Network's biggest hits – it airs every day of the week reaching approximately 600,000 kids!
These graphic novel adaptations lay out the screen captures carefully to create real comics pages as opposed to many such adaptations showing random frames floating between empty spaces.
In Volume #1 "Fish to Fry," Jon reluctantly agrees to let his girlfriend Liz keep her pet fish at his house while she's away out of town. Jon has to stop these fish from becoming Garfield's snacks – or else! Volume #2 "The Curse of the Cat People" finds our paunchy protagonist, along with his foil Odie, transported into another dimension through a magic mirror. Garfield and Odie end up in an alternate version of ancient Egypt where cats rule the world! Both graphic novels feature two additional stories that cover everything from Pet Shows to Garfield's search for his beloved teddy bear "Pooky," to Odie's discovery of a valuable dinosaur fossil in Jon's backyard!
Garfield's diverse fan base should provide a ready audience for this series. From fans of the daily comic strip (serialized in over 2,400 newspapers around the world), to those who grew up on the Garfield & Friends television series from the 1990's, to fans of the Garfield films and the television show from which these comics are adapted – GARFIELD & Co graphic novels have a little something for everyone.
Founded in 2005, Papercutz is dedicated to publishing the best comics and graphic novels for kids 6-14 and all young at heart. GARFIELD & Co graphic novels are 6½ x 9, 32 pages, full-color $7.99 in hardcover. #1 "Fish to Fry" ISBN: 978-1-59707-266-3, #2 "The Curse of the Cat People" ISBN: 978-1-59707-267-0. For more information, please contact our publicist Sue Soares: [email protected].
Related posts: