Advance Preview: Alpha Flight #0.1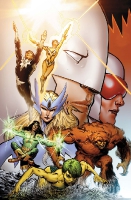 From the press release:
Marvel is pleased to present your first look at Alpha Flight #0.1, from New York Times bestselling writers Greg Pak & Fred Van Lente and acclaimed artist Ben Oliver! As Fear Itself approaches, The fan-favorite super hero team returns in this special POINT ONE issue, a great starting point for new readers! Meet the founding members that made Alpha Flight great! Super-powered terrorists attack as the nation goes to the polls on Election Day and the country's greatest heroes rise to stop them — but are they on the right side?
"Alpha Flight Fans rejoice! One of comics' greatest teams is back in their own book! Fred Van Lente and Greg Pak have crafted a perfect jumping on point for the new reader and AF loyalists alike," said Marvel Senior Editor Mark Paniccia. "In just a few pages, the two scribes get you caught up with your favorite heroes, get them right into the action and seed a major plot point for the new maxi-series debuting in June with fan-favorite artist extraordinaire, Dale Eaglesham. Get on the horn, the message boards, communication devices of all types and tell your friends that Alpha Flight is back!"
Get in on the ground floor for one of this year's hottest new series before they head into the fight of their lives during Fear Itself! Do you fear your country turning on you? Watch as the team gets drawn into a civil war all its own this May, only in Alpha Flight #0.1!
Preview Pages:
ALPHA FLIGHT #0.1 (MAR110629)
Written by GREG PAK & FRED VAN LENTE
Penciled by BEN OLIVER
Cover by PHIL JIMENEZ
Rated T+ …$2.99
FOC – 4/25/11. On Sale – 5/18/11
Related posts: