Preview: Your First Look at Chaos War #4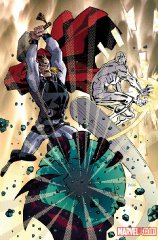 From the press release:
Marvel is pleased to present your first look at Chaos War #4 (of 5), the penultimate chapter of the senses-shattering epic from the New York Times bestselling creative team of writers Greg Pak, Fred Van Lente, and Khoi Pham! The Marvel Universe's last hope hinges on the Thor, Hercules, Galactus and the divinely inspired God Squad as the Chaos King continues to lay waste to all in his way. Faced with impossible odds, Thor and Hercules must wage an all-or-nothing assault to end the reign of The Chaos King or face the annihilation of time and space as we know it.
As Marvel's wall-to-wall battle for existence reaches its boiling point, fans and critics agree that Chaos War is a smash on a cosmic scale!
"Greg Pak and Fred Van Lente continue to deliver sharp dialogue, pitch-perfect characterization and impressive film-like pacing, all with the humor that we've grown used to with Herc and Cho." – Dan Iverson, IGN.com
"[An] action-filled romp of biblical proportions." — Patrick Hume, Newsarama.com
"Every panel just exceeds in creating the illusion of a larger than life battle waged by gods in the arena of earth." — Ray Tate, ComicsBulletin.com
Can the God Squad put aside their divine differences for a last ditch effort to save life as we know it? Even eternals can fear the end of all things, but don't expect them to go down without a fight in Chaos War #4 (of 5), on sale this December!
Preview Pages:
CHAOS WAR #4 (of 5) (OCT100596)
Written by GREG PAK & FRED VAN LENTE
Pencils by KHOI PHAM
Cover by DAN PANOSIAN
Rated T+ …$3.99
FOC – 11/16/10, On-Sale – 12/15/11
Related posts: