Fourth Issue of Groundbreaking Digital Comic In Maps & Legends Launches February 2nd, 2011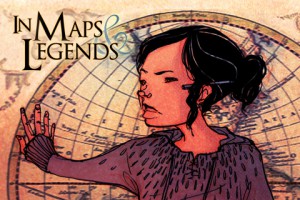 From the press release:
IN MAPS & LEGENDS, an ongoing digital comic illustrated by Niki Smith and written by Michael Jasper, continues with its fourth issue on February 2, 2011. Smith and Jasper were named "Digital Creators of the Year" (along with Alex de Campi) for their work on IN MAPS & LEGENDS in 2010: http://robot6.comicbookresources.com/2011/01/2010-the-year-in-digital-comics/
You can read the comic in a range of digital formats on multiple platforms, including iPhone, iPod Touch, iPad versions, plus versions for the Kindle, the Nook, and the Web (PDF, HTML, and Flash). Issues sell for $.99 each. Readers can purchase, download, and read all four issues of the ongoing, contemporary fantasy comic from over a dozen different online distributors, including Comixology, Graphic.ly, Amazon, Barnes & Noble, iBooks, the Illustrated Section, the Google eBookstore, and DriveThruComics.
Please let us know if you'd like more information about our comic, or if you'd like to review it or chat with us about it.
The target audience is for fans of The Sandman, Unwritten, and LOST — supernatural urban fantasy with a hint of science fiction wrapped up in it.
Here's a quick summary of the fourth issue:
With Bartamus' world falling apart around them, LaVonne, Jeremy, and Antawn venture deeper into unknown territory, while Kait travels into the darkness between worlds — and she's no longer alone.
Some relevant links:
About the Creators:
Artist Niki Smith is an artist and writer who is currently working on a handful of creator-owned comic projects such Some Did Rest. Her work has also appeared in several English language and German comic anthologies.
Writer Michael Jasper has published three novels, a story collection, and over four dozen short stories in Asimov's, Strange Horizons, Polyphony, Writers of the Future, and the Raleigh News & Observer, and other fine venues. His most recent novel is A Gathering of Doorways (Wildside Press, 2009).
Related posts: