In Maps & Legends Webcomic launches at Zuda Comics on May 27th
IN MAPS & LEGENDS Webcomic launches at Zuda Comics on May 27th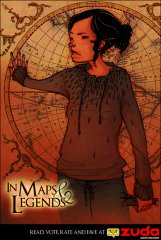 Let's talk Thursdays. A Thursday has always been an iffy day at best. It's not yet the weekend, and your batteries are running low. There just isn't much to look forward to on a Thursday.
But we have good news!  You do not have to dread Thursdays any longer.
Because every Thursday for the next year, you can enjoy a new page of the contemporary fantasy webcomic IN MAPS & LEGENDS at DC Comics' online imprint, Zuda Comics: http://www.inmapsandlegendscomic.com/.
The comic begins its year-long run on Thursday, May 27.
Created by artist Niki Smith and writer Michael Jasper, IN MAPS & LEGENDS tells the story of a young woman named Kait, who — for for no reason known to her — gets up in the middle of the night to carve a map into the drywall of the spare room to her apartment. Before she can finish it, though, a strange man named Bartamus shows up at her place in the middle of a wintry night, claiming to be from another, dying world that desperately needs Kait's help.
Winner of the November 2009 contest at Zuda, where it competed against nine other comics chosen by the Zuda editors, IN MAPS & LEGENDS now continues the tale of magic, mystery, and steampunk fantasy that follows its contest-winning opening eight pages.
For a sneak peek at some of the art from the new pages, take a look here:
http://michaeljasper.wordpress.com/2010/05/17/in-maps-legends-the-story-continues-at-last/ (password is kait).
Michael and Niki are available for interviews if you'd like to create one for your site.  I've included some quick bio information below for the creators:
Artist Niki Smith:
Niki is an artist and writer, who is currently working on a handful of creator-owned comic projects such as Highwater, and Some Did Rest. Her work has also appeared in several English language and German comic anthologies. Her website is http://niki-smith.com, and her email is [email protected]iki-smith.com.
Writer Michael Jasper:
Michael has published three novels, a story collection, and over four dozen short stories in Asimov's, Strange Horizons, Polyphony, Writers of the Future, and the Raleigh News & Observer, and other fine venues. His most recent novel is A Gathering of Doorways (Wildside Press, 2009). His website is http://michaeljasper.net, and his email is [email protected]
Related posts: