Essex County Wins the Canada Reads People's Choice Poll by a Landslide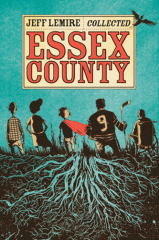 If you've been following the news on here, you'll know that Jeff Lemire's Essex County was nominated as one of the top five books, in CBC's Canada Reads campaign, which aimed to find the greatest Canadian novel of the decade.
On Monday, during the first of a series of celebrity panelist debates, Essex County was sadly voted out of the contest. Then last night, during the final debate, the panelists picked Terry Falls' The Best Laid Plans as the winner of the contest.
It seems that a lot of readers were displeased with the result of the contest, particularly Essex County fans, who thought that Lemire was robbed, and that the "celebrity" panelists don't know a thing about good literature. To appease viewers, CBC asked for readers to vote for which novel they thought should have won, in the People's Choice poll.
Well, the poles have closed and Jian Ghomeshi announced the winner last night, on CBC Radio One's Q. Here are the results:
Essex County by Jeff Lemire 53.15%
The Birth House by Ami McKay 16.27%
The Best Laid Plans by Terry Fallis 14.74%
Unless by Carol Shields 13.29%
The Bone Cage by Angie Abdou 2.56%
Huge congratulations to Jeff Lemire. That's a well deserved win, and I believe that the people's vote means a lot more than what a bunch of Z-list "celebrities" think!
It makes me proud to call myself Canadian!
Related posts: