Zenescope's Charmed Issue 1 Sells Out
From the press release:
ZENESCOPE'S CHARMED ISSUE 1 SELLS OUT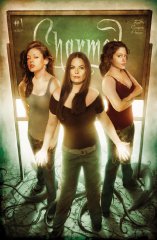 Zenescope Entertainment, publisher of the hit series Grimm Fairy Tales, Neverland, The Waking and the critically acclaimed Se7en, has announced that the number one issue of their newest title, CHARMED has sold out of its initial 17,000 copy print run in under three weeks. Zenescope has approved a second printing which will put extra copies on shelves within two weeks. "Diamond has already sold out and most retailers are reporting sell outs," stated Zenescope President Joe Brusha. "We are rushing back to print with the goal to get #1 issues back on shelves prior to issue #2 hitting stands in three weeks. We really appreciate the support fans are showing for this series and we'Äôre excited because it'Äôs only going to get better."
Charmed is an American television series that originally aired from October 7th, 1998, until May 21, 2006, with a total of eight full seasons on the WB Television Network. The series was created by writer Constance M. Burge and was produced by Aaron Spelling and follows the four Halliwell sisters - Prue, Piper, Phoebe, and later, Paige. The sisters are known as The Charmed Ones whose prophesied destiny is to protect innocent lives against evil beings such as demons and warlocks while trying to keep their paranormal identities separate and secret from their ordinary lives. Charmed became the longest running hour-long series featuring all female leads of all time. Zenescope's comic book series picks up where the television series left off.
Zenescope Entertainment was founded by Joe Brusha and Ralph Tedesco in 2005 and has quickly grown into one of the top comic book and graphic novel publishing companies in the world. Zenescope's Grimm Fairy Tales series and subsequent spin off series, which put a dark twists on classic fables, are some of the best-selling and longest running original independent comic books on shelves today.
About CBS Consumer Products
CBS Consumer Products manages worldwide licensing and merchandising for a diverse slate of television brands and series from CBS, CBS Television Studios and CBS Television Distribution, as well as from the company's extensive library of titles. Additionally, the group oversees the CBS Retail Store and online sales of programming merchandise. For more information, visit www.CBS.com
Related posts: