Whatever Happened to Baron Von Shock? Sells Out and Gets a Reprint
From the press release:
SHOCK VALUE
Image Comics reprints first issue of WHATEVER HAPPENED TO BARON VON SHOCK? after sellout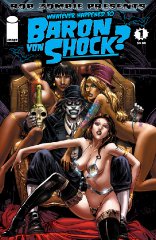 Berkeley, CA - 2 June 2021 - Less than a week after its initial release, entertainment impresario Rob Zombie's WHATEVER HAPPENED TO BARON VON SHOCK? #1 has sold out at the distribution level.
Image Comics is releasing a second printing of the first issue of Zombie's sordid study of the rise and fall of a minor celebrity, illustrated by Donny Hadiwidjaja and Val Staples, and it will be in stores on June 30, 2010, the same day as the second issue hits.
"What can I say?" asks Zombie. "It's awesome to hear that Baron Von Shock flew off the shelves. I love this book and I'm glad to hear that everyone else does, too."
In WHATEVER HAPPENED TO BARON VON SHOCK?, Rob Zombie returns to comics with a dark dramedy that outlines the fantastic rise and spiraling decent of celebrity. Being in the right place at the right time isn't always a good thing, as Baron Von Shock finds out first hand. His sudden rise to fame as a television horror host meets with unexpected results. Baron Von Shock delivers a roller coaster ride of emotion that Rob Zombie can deliver.
WHATEVER HAPPENED TO BARON VON SHOCK? #1 Second Printing (MAR108131), a 32-page full-color comic book for $3.99, will be on sale June 30, 2010, the same day as WHATEVER HAPPENED TO BARON VON SHOCK? #2 (APR100476).
Image Comics is a comic book and graphic novel publisher founded in 1992 by a collective of best-selling artists. Image has since gone on to become one of the largest comics publishers in the United States. Image currently has five partners: Robert Kirkman, Erik Larsen, Todd McFarlane, Marc Silvestri and Jim Valentino. It consists of four major houses: Todd McFarlane Productions, Top Cow Productions, Shadowline and Image Central. Image publishes comics and graphic novels in nearly every genre, sub-genre, and style imaginable. It offers science fiction, romance, horror, crime fiction, historical fiction, humor and more by the finest artists and writers working in the medium today. For more information, visit www.imagecomics.com.
Related posts: