Darick Robertson No Longer the Regular Artist on The Boys!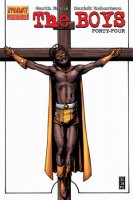 Contrary to Dynamite's solicitation for issue #44 of The Boys, Darick Robertson will not be the artist on the upcoming 'Believe' story arc. In fact, Darick has announced to fans at his Standard Attrition forum, that issue #43 will be his last monthly issue for a while!
Dynamite will be bringing Russel Braun in as the fill-in artist, while Darick will still be providing regular covers for the series, and will be concentrating on next year's Butcher miniseries (six issues, July 2011).
While Darick hasn't directly stated the reasons that lead to the decision, he has answered several fan questions on the matter, and it sounds like Dynamite want the book to come out every month, and couldn't really care a less who draws it!
They (Dynamite) make the schedule. I made my desires known, and this was what was chosen as best for the title.

I did my very best to make the book come out monthly with my art. I never wanted fill-ins. I try to put my all into every issue, and make the series whatever I can make it as good as it could be. However, it takes a certain amount of time to create an issue. Those realities are what they are, and there are different choices with how to make that goal work.
Darick Robertson co-created The Boys. Carrying on the title without him as the regular artist, is a travesty! Would it be the same situation if Garth Ennis couldn't provide a new script every single month? I don't think so. To do this to him after all of his hard work creating the characters, and providing so much consistently brilliant artwork, is a complete and utter insult!
The Boys is one of my favourite series, and is by far the best title that Dynamite Entertainment have ever published! The fact that they would sacrifice the quality of the title, just so that it meets a monthly shipping schedule, sickens me.
Darick has asked fans to let their thoughts on the subject be known, and to direct their concerns to Dynamite. If you wish to let Dynamite know what you think of this decision, please email them at [email protected] PLEASE DON'T EMAIL YOUR COMPLAINTS IN!
Related posts: