Seven Page Sneak Peek Preview of FVZA: Federal Vampire and Zombie Agency #1, with Cover Gallery for Issues #1 & #2, and More
FVZA: Federal Vampire and Zombie Agency is an upcoming new mini-series from Radical comic, debuting in October 2009. The three-issue miniseries will be written by famed macabre writer David Hine, and will have interior artwork by Roy Allan Martinez. The series will be release as part of Radical's new 64-page, bookshelf format, with a low $4.99 price point. Also featured in issue #1 is a special preview of The Last Days of American Crime by Rick Remender, Radical's next bookshelf title, on sale December 2009.
FVZA is based on the popular website, FVZA.org, created by Richard S. Dargan, FVZA chronicles a world where a deadly disease, representing a new threat of global terrorism, transforms innocent victims into Zombies and a long dormant government task force is called into action: The Federal Vampire and Zombie Agency. Throughout history, from the Civil War to World War II, the FVZA protected humanity from the blood-sucking and flesh-eating hordes — until a cure was discovered that sent the undead to their graves. When a new incurable strain of the virus ravages a small town in America, Agent Landra Pecos must call upon her lethal skills to eradicate the threat. But as Landra delves deeper into her investigation of the undead menace, she uncovers shocking secrets that will forever change her family, her world and her life.
The official press release for has quite a bit of praise for the title, including:
"Hine has the unique ability to take familiar horrors and turn them into new terrors. FVZA is David Hine at his best. Prepare for a bloody fun ride." - Steve Niles
"FVZA is a cutting edge reinterpretation of American history and Radical is excited to bring it to life… David Hine is just a phenomenal writer who is taking a fresh mythology to new heights. Longtime fans of the website as well as new readers won't be disappointed with David's amazing take on the FVZA." - Barry Levine
David Hine was also interviewed about this comic on Newsarma recently, click here to check that out.
This is actually the first that I have heard about this FVZA.org website, but I will definitely be spending some time investigating it now! The preview pages below look really intense, and I can't wait to get my hands on a copy of this one!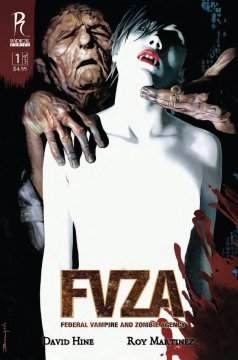 Issue #1 Preview with Cover Gallery:
Issue #2 Cover Gallery:
The 'A' cover is the first officially released cover by Jelena Djurdjevic, and the variant cover by E.M. Grist was found on the artist's website: erikgist.com
The Interrogation Room:
The Following image was found on the Deviant Art page of artist Ray Bender. It is an image he was commissioned to do for Radical for the FVZA series. It is unknown where it will appear in the series: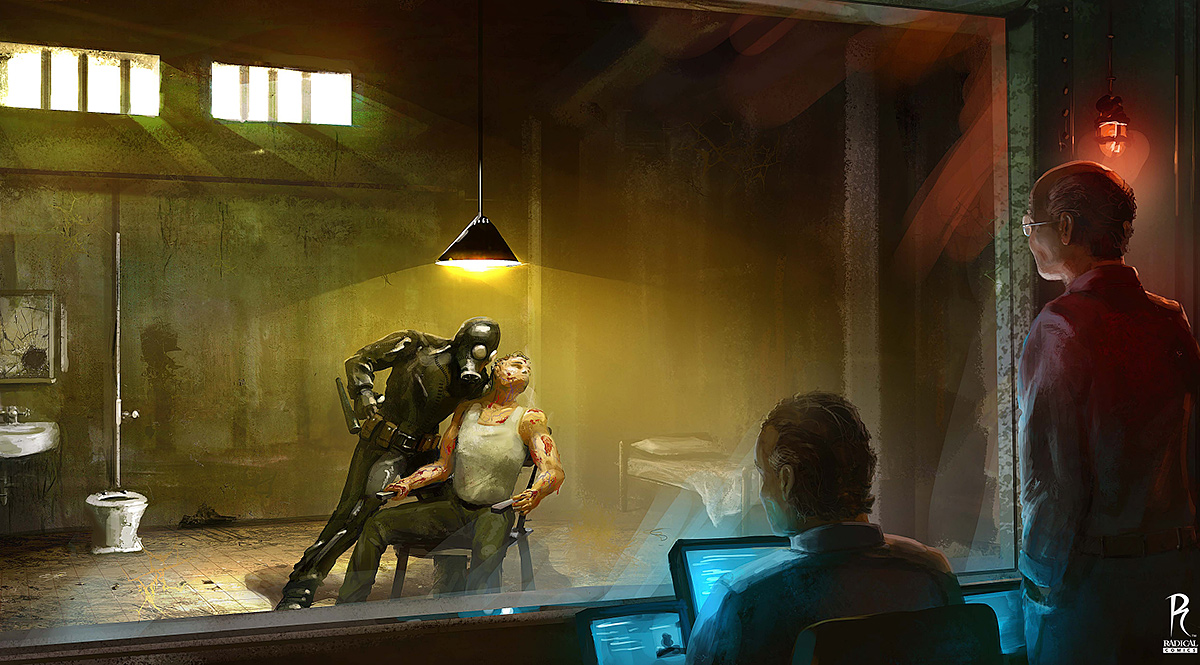 Related posts: