Platinum Studios and Practical Pictures to Develop Feature Film of Alien At Large! Graphic Novel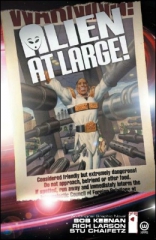 According to Deadline.com, Platinum Studios and Practical Pictures have teamed to develop Platinum's graphic novel Alien At Large! as a feature film.
Alien at Large! is a graphic novel, written & created by Bob Keenan, illustrated by Rich Larson, with colours by Stu Chaifez. The book was published in 2008 by Platinum Studios Comics.
The plot is described as:
Alien Ambassador Boxavo Tan means well, but he's dumb as a post. He has an uncanny ability to turn every situation into a catastrophe. Once he's set on a course of action, the only thing his handlers can do is clean up his mess.
If you want to check the book out, you can pick up a digital copy for just $1.99 over on Wowio.
Alien at Large! is just one of 5000 properties that Platinum Studios controls.  They also control Cowboys & Aliens, which is set to be one of this summer's hottest blockbusters!

Related posts: