Lucille Ball Gets a Bluewater Biography Comic
From the press release: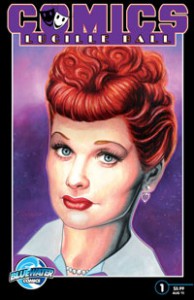 Bluewater is pleased to announce a special comic book project featuring one of the most beloved and widely known figures in the history of American culture, the legendary Lucille Ball. "Comics: Lucille Ball" will be released in August 2011 and have a cover price $3.99, just in time to celebrate her 100th birthday. Written by Jaymes Reed and drawn by Patricio Carbajal.
Lucille Ball is arguably the most influential figure in the history of American television. This comic will focus on her humble beginnings and the incredible events that led to her eventually becoming a household name at a time when that meant virtually every American household as the star of the classic" I Love Lucy" program. Though she would pave the way for many female comediennes that came after her, she towers over the rest. There is still only one Lucy. This book shows the influences on her comedy that still influence every person who tries to make a living making others laugh.
"The series as a whole was created to help me laugh during terrible times following my mother's death on New Year's Eve 2009. When preparing the initial line-up for the COMICS series, I knew right away a Lucille Ball book would be near the top. Besides for being the Queen of Comedy, she was my mother's favorite television personality, nearly to the point of serious addiction. I grew up on corn flakes, Texas sunshine… and each episode of everything Lucy ever starred in! "COMICS: Lucille Ball" will partly feature my mom as a little girl and will also be dedicated to her memory."
Publisher Darren G. Davis said, " Our goal is to show the little-known events and influences that resulted in Lucille Ball becoming the phenomenon she remains to this day, 100 years after her birth and years after her death. A visual medium provides perspective that is not only accessible but more relatable to the average person without losing any of the information involved".
This 32-page comic book will be chronicling this saga, "COMICS: Lucille Ball" will explore all sides of this amazing talent, from her positive contribution to her fans' lives and society at large and how she is one of the few celebrities hardly anyone says a bad word about. Through it all, she always remained true to herself and appeared to be genuine. What you saw is what you got with her. There didn't appear to be a phony bone in her body. That - and her remarkable talent - is what has made her an enduring legend. Interest is still strong and steadfast for one of the most powerful women in the history of entertainment.
Join Bluewater Productions as we examine the life-affirming journey of Lucille Ball and how she became the ultimate American story and forever remembered as the Queen of Comedy.
Check it out at your local comic book shop, Barnes and Noble and Amazon.com. To Pre-order it on Amazon click here: http://amzn.to/jqOIBX
Related posts: