Graveyard of Empires #1 Sells Out and Gets a Second Printing!
From the press release:
SELL OUT NEW SERIES BEGINS BUILDING EMPIRE
2nd Printing Underway for New Wartime Survival Comic, Graveyard of Empires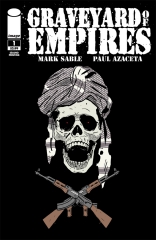 Berkeley, CA – 16 June 2021 – The trials and dangers that occur within the borders of Afghanistan seem like a world away to most western comic readers, but the new Image Comics miniseries GRAVEYARD OF EMPIRES has immediately hit home with fans and critics. In fact, this first issue by former GROUNDED co-creators, writer Mark Sable and artist Paul Azaceta, has sold out at distribution level, prompting the publisher to go back to press in order to meet the high demand.
"Doing a war book like GRAVEYARD OF EMPIRES was a real passion project for Paul and I, and we appreciate Image, retailers and fans taking a chance on it," said Sable. "It's been particularly rewarding hearing from those who served that we got the military aspects of the story right. So far no word from the zombies on the accuracy of their portrayal, though."
"We put a lot of work into the book, and I'm ecstatic to hear the good news," added Azaceta. "Thanks to all, and I can't wait for everyone to see what's up next!"
GRAVEYARD OF EMPIRES offers a daring story mixing very real portrayals of the horrors of war with more traditional horror elements, all rendered with the expert restraint of Azaceta's ink. This first issue is packed with story pages and Sable uses them all to let his characters inhabit their dangerous world and develop before the reader's eye. The two have set forth to illustrate just what "insurgent math" means on the front line of GRAVEYARD OF EMPIRES, and so far it isn't pretty.
The second printing of GRAVEYARD OF EMPIRES #1 (MAY118033), a 32-page full color horror/survival comic book that will appeal to fans of The Hurt Locker and THE WALKING DEAD, is priced at $2.99 and available for re-order now with an in-store date of July 13, coinciding with the release of GRAVEYARD OF EMPIRES #2 (MAY110509).
ABOUT IMAGE COMICS
Image Comics is a comic book and graphic novel publisher founded in 1992 by a collective of best-selling artists. Image has since gone on to become one of the largest comics publishers in the United States. Image currently has five partners: Robert Kirkman, Erik Larsen, Todd McFarlane, Marc Silvestri and Jim Valentino. It consists of five major houses: Todd McFarlane Productions, Top Cow Productions, Shadowline, Skybound and Image Central. Image publishes comics and graphic novels in nearly every genre, sub-genre, and style imaginable. It offers science fiction, romance, horror, crime fiction, historical fiction, humor and more by the finest artists and writers working in the medium today. For more information, visit www.imagecomics.com.
Related posts: