Win Original Art from New Image Series Samurai's Blood!
From the press release:
LEGACY OF SAMURAI'S BLOOD
Take Part in a New Samurai Journey and Bring Home Original Art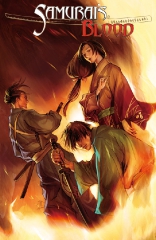 BERKELEY, CA – 13 May 2021 – Revenge, redemption, honor, and love shine in SAMURAI'S BLOOD, the new six-issue miniseries from Image Comics and Benaroya Publishing. Beginning in June, writer Owen Wiseman, in collaboration with interior artists Nam Kim and Matthew Dalton, along with cover artist Jo Chen, will introduce a tale of three young samurai battling their way through the world while hiding their identities in order to find their destinies. Readers can not only learn of the legacy of SAMURAI'S BLOOD, but they can now enter for a chance to take a piece of the journey home as well!
Wiseman explained, "We wanted to give fans who jump on board early a chance to win some one-of-a-kind art. It's the fans really caring and paying attention that keeps us going, so we wanted to do something special for them."
Before the journey of SAMURAI'S BLOOD begins, readers can join the SAMURAI'S BLOOD community on Facebook and Twitter to enter into a drawing for a chance to win an original interior page of SAMURAI'S BLOOD by Kim! There is no purchase necessary to enter; all you need to do is head to the SAMURAI'S BLOOD Facebook fan page at www.facebook.com/SamuraisBlood or follow @SamuraisBlood on Twitter and you are automatically entered to win. Two lucky winners (one from Facebook and one from Twitter) will be chosen at random on the day SAMURAI'S BLOOD #1 hits shelves.
In the first issue of SAMURAI'S BLOOD, the teenage samurais must flee as their village and all they've ever known burn to the ground behind them. Headed for a city they've only heard about in stories, the three young samurai must struggle to maintain their lives and true identities in an era when lineage defined you. Will they rise on the tides of vengeance against the evil usurper who has destroyed the rest of their clan, or will they fall on the swords of fate?
SAMURAI'S BLOOD #1 (APR110406), a 32-page full color action adventure comic book priced at only $1.00 will be available in stores on June 8th.
ABOUT OWEN WISEMAN
Owen Wiseman writes graphic novels, screenplays, and prose. Raised by hippies in the Pacific Northwest, Owen loves history, philosophy, mythology, technology, and most -ologies, really. Owen has a degree in Philosophy from Pomona College in sunny Claremont, CA, and would like to get a dog but his apartment manager is some sort of animal-hater.
ABOUT NAM KIM
Nam Kim is a Philadelphia-based artist, founder and director of Studio Imaginary Lines, an all-purpose design house which produces original content for comic books, video games and commercial advertising. Nam is a self-taught illustrator who credits artists such as Burne Hogarth, Jim Lee and Masamune Shiro for shaping his artistic style and vision.
ABOUT BENAROYA PUBLISHING
Founded in 2009 by Michael Benaroya, Benaroya Publishing is a company dedicated to the creation and cultivation of intellectual property by focusing on thrilling and compelling storytelling. Based in Los Angeles, California, Benaroya Publishing launches their debut titles this Spring under the Image Comics label. With David Elliott (FALL OUT TOY WORKS and co-founder of RADICAL PUBLISHING) at the helm as in-house Editor-in-Chief, Benaroya Publishing promises to bring fresh new ideas, and uniquely told stories to the comics literary world.
ABOUT IMAGE COMICS
Image Comics is a comic book and graphic novel publisher founded in 1992 by a collective of best-selling artists. Image has since gone on to become one of the largest comics publishers in the United States. Image currently has five partners: Robert Kirkman, Erik Larsen, Todd McFarlane, Marc Silvestri and Jim Valentino. It consists of four major houses: Todd McFarlane Productions, Top Cow Productions, Shadowline and Image Central. Image publishes comics and graphic novels in nearly every genre, sub-genre, and style imaginable. It offers science fiction, romance, horror, crime fiction, historical fiction, humor and more by the finest artists and writers working in the medium today. For more information, visit www.imagecomics.com.
Related posts: