Dark Horse Comics Donates to $20K Library Prize!
From the press release:
DARK HORSE COMICS FILL TEXAS LIBRARY SHELVES
LUCKY LIBRARIAN WINS $20K GRAPHIC NOVEL LIBRARY COLLECTION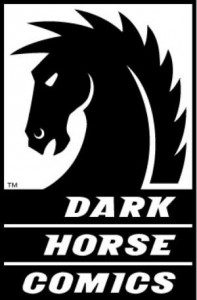 May 2, 2011, MILWAUKIE, OR: The Texas Library Association's (TLA) Annual Conference was held in Austin, TX April 12-15th. More than 6,000 librarians and library professionals were registered to attend.
Dark Horse Comics own Michel Martens (VP of Book Trade Sales) was in attendance to help present an amazing prize. At this conference, one lucky winner was picked for the "Great Graphic Novel Library Giveaway", a $20,000 prize including more than 700 hand picked graphic novels, as well as fixtures and furniture for placement in their library.
The winner, Eduardo Zepeda from Weslaco Public Library was selected from a group of 20 finalists.
"This is tremendous, as the books will be a great addition to our graphic novel collection. We look forward to sharing this prize with our patrons and seeing readers sitting on the couch reading and enjoying the books." Martin Mata, also from the Weslaco Public Library, shared, "The couch will be placed in the new learning commons, where we have a plasma TV and no seating area for people to be able to enjoy it."
The "Great Graphic Novel Library Giveaway" was open to Texas public and school librarians.
About Dark Horse Comics
Since 1986, Dark Horse Comics has proven to be a solid example of how integrity and innovation can help broaden a unique storytelling medium and establish a small, homegrown company as an industry giant. The company is known for the progressive and creator-friendly atmosphere it provides for writers and artists. In addition to publishing comics from top talent like Frank Miller, Mike Mignola, Neil Gaiman, Gerard Way, and comics legend Will Eisner, Dark Horse has developed such successful characters as the Mask, Timecop, and SpyBoy. Additionally, its highly successful line of comics and products based on popular properties includes Star Wars, Indiana Jones, Buffy the Vampire Slayer, Aliens, Conan, Emily the Strange, Tim Burton, Trigun, Serenity, and Domo. Today Dark Horse Comics is the largest independent comic-book publisher in the US and is recognized as one of the world's leading publishers of licensed comics material.
Related posts: