Advance Preview of: Wolverine #10
From the solicitation: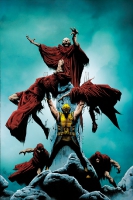 Marvel is pleased to present your first look at Wolverine #10, part one of "Wolverine's Revenge!" from superstar writer Jason Aaron and acclaimed artist Renato Guedes! It's a claws and carnage-fueled kill spree as Logan sets out for retribution on the Red Right Hand! What are the secrets of this shadowy council and why would they target the world's most dangerous mutant? Can anything spare them from Wolverine's unforgiving rage? Find out this June as Logan cuts the secrets out of the men who sent him to Hell as he begins a mission without mercy, only in Wolverine #10!
Preview Pages:
WOLVERINE #10 (APR110639)
Written by JASON AARON
Penciled by RENATO GUEDES
Cover by JAE LEE
Parental Advisory …$3.99
FOC – 5/16/11. On Sale – 6/8/11
Related posts: