Advance Preview: Wolverine #9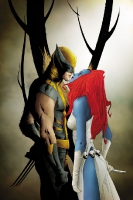 From the solicitation:
Marvel is pleased to present your first look at Wolverine #9! Wolverine's been sent him to Hell, forced into a brutal rampage against the X-Men, and had his mind torn to shreds by demons. Finally free, Logan's only got one thing on his mind – payback! First on his list,  the woman who put the gears of hell in motion, Mystique. Except, Wolverine's not the only one who's got her in his sights. Lord Deathstrike, the unstoppable new assassin, enters the fray to tear Mystique to pieces. Can Logan claw his way to her first? Acclaimed creators Jason Aaron and Daniel Acuña bring you what could be Mystique's "Final Repose" this May, only in Wolverine #9!
Preview Pages:
WOLVERINE #9 (MAR110725)
WOLVERINE #9 X-MEN EVOLUTIONS VARIANT (MAR110726)
Written by JASON AARON
Penciled by DANIEL ACUÑA
Cover by JAE LEE
X-Men Evolutions Variant by MICHAEL RYAN
Parental Advisory …$3.99
FOC – 5/2/11. On Sale – 5/25/11
Related posts: