MCM's Comic Village Takes to the Road to Promote UK Comics Talent
From the press release:
SPRING MEMORABILIA SHOW – 26-27 MARCH – NEC BIRMINGHAM
Comic Village Takes to the Road to Promote UK Comics Talent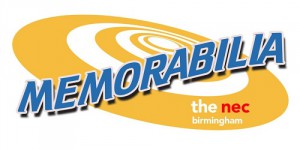 This year, the London MCM Expo's famous Comic Village is taking comics around the country and the show organisers are delighted to announce that the first stage of the tour, the Memorabilia Show at the NEC Birmingham on 26-27 March, is already booked up with talented artists and writers.
"We're really pleased with the excellent take-up we've seen for the Comic Village at Memorabilia," commented MCM Group's Paul Miley. "We believe that the twice-yearly Memorabilia Show can become the focal point for the comic book talent and community in the Midlands."
Comic creators attending this weekend's Memorabilia include Lee Bradley; John McCrea; Kat Nicholson; Jason Cardy; Laura Howell; Liam Shalloo; Al Davison; Keith Burns; MC2; Matthew Craig; Lizz Lunney; Philippa Rice; Dylan Cook; Tony McGee; Markosia; Alice De Ste Croix; Ian Sharman; Josh Clarke; Linh Ha; Scot Stanford; Lyndon White; Ty Wilson; Sean Azzopardi; Lily Mitchell; Howard Hardiman; Toonikun and Minyi.
After showcasing UK comics talent at Memorabilia, the Comics Village heads home to MCM Expo London Comic Con on 27-29 May before travelling out to the Manchester MCM Expo on 30 July. Then it's back to the capital for the second London Comic Con of the year on 28-30 October before returning to the Midlands for the Winter Memorabilia Show on 19-20 November.
If you are interested in attending the July's Manchester MCM Expo or November's Winter Memorabilia Show as small press or as a Comic Village guest, please email [email protected]
For more information, visit www.memorabilia.co.uk or follow us on www.twitter.com/mcmexpo
For tickets to the Spring Memorabilia Show and other great MCM Group events, please visit: www.mcmexpogroup.com/store
Related posts: