New Trailer - Monsterverse - Lugosi Comic - Holiday Sales - New Issues with Rick Baker, Mignola, Niles and More!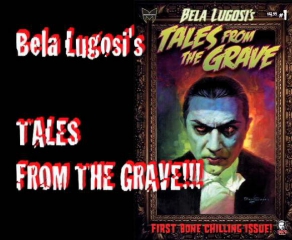 From the press release:
(Dallas, Texas) Monsterverse Entertainment. View the new Monsterverse/Lugosi horror comic TRAILER on YouTube!
http://www.youtube.com/watch?v=RTn4tPcTnMc
The Lugosi comic is STILL available in back-order from Diamond. It is STILL receiving great reviews and selling out at shops. This first collector's issue has become a hot holiday gift selection. Issues Two and Three are currently being completed. Acclaimed make-up artist Rick Baker is providing the cover for the second issue. "HELLBOY" creator Mike Mignola, "30 DAYS OF NIGHT"'s Steve Niles and more greats have stories and work coming up in the pages of "BELA LUGOSI'S TALES FROM THE GRAVE" in the months ahead.
Here is a look at a recent cover by Rick Baker for Monsterverse's other web publication, MONSTER KID ONLINE MAGAZINE, at: http://www.monsterkid.com/
Monsterverse is looking forward to a great year in 2011 with new issues of the Lugosi comic along with the Halloween release of "FLESH AND BLOOD" from writer Robert Tinnell and artist Neil Vokes.
Diamond WILL FILL ANY BACK-ORDER to meet the holiday demand for the Lugosi book in the wake of the critics' top reviews and growing fan interest. All a fan has to do is tell their comic shop to order it and Diamond will have it for them shortly.

THE CRITICS AGREE!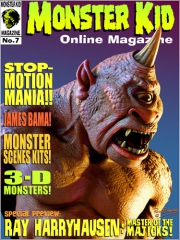 AICN HORROR & COMICS EDITOR MARK MILLER (AMBUSH BUG):
"Finally, I reviewed BELA LUGOSI'S TALES FROM THE GRAVE #1 in this week's AICN COMICS REVIEWS Indie Jones section and it's a comic you horror-fiends may want to check out. The book was released from Monsterverse this week. You can read my full review of this fantastic horror anthology starring everyone's favorite classic vampire written and drawn by some extremely talented folks by clicking here."
http://www.aintitcool.com/node/47312#11
"Okay, I can't contain myself any longer. Tales from the Grave #1 is absolute, unbridled perfection." -Mr. Dark at DREAD CENTRAL. Rates the Lugosi comic 5 out of 5 Bloody Knives for a perfect score! http://www.dreadcentral.com/reviews/bela-lugosis-tales-grave-1-comic-book
"BELA LUGOSI'S TALES FROM THE GRAVE is the Best Anthology Comic Book I've read and review-blogged so far in 2010!" -Mark Hamersky  http://makeitsomarketing.tripod.com/popularcultureblog/index.blog/2078875/my-take-on-bela-lugosis-tales-from-the-grave/
Issue number one of the "BELA LUGOSI'S TALES FROM THE GRAVE" horror anthology comic book was the lead feature online at USA TODAY.
http://www.usatoday.com/life/comics/2010-10-29-Halloween-comics_N.htm
COMICS BULLETIN: "…tight tales, cleverly written and drawn" http://www.comicsbulletin.com/reviews/128876029953253.htm
"Do you know what book you have been waiting for the most this year? …it's this one" -COMIC RELATED http://tinyurl.com/2bj9fdx
MONSTERVERSE ENTERTAINMENT is headed by its publisher and editor, the comic book and film design artist, Kerry Gammill.
Producer/writer Sam F. Park is the west coast editor and a writer/artist.
Keith Wilson, formerly of DC Comics, is a co-editor and writer/artist.
"BELA LUGOSI'S TALES FROM THE GRAVE" is a double-sized 48-page color quarterly for $4.99 (with NO advertising!). The first issue contains stories and art by such notables as Kerry Gammill, (SPIDER-MAN and SUPERMAN) James Farr (whose XOMBIE online animated and comic book series is being brought to theater screens by Dreamworks in a live-action production by top writer/producers Orchi and Kurtzman), Chris Moreno (WORLD WAR HULK), John Cassaday, Rob Brown (voted online as horror artist of the year for BANE OF THE WEREWOLF), Derek McCaw, Rafael Navarro (creator of the Xeric Award winning series SONAMBULO), Martin Powell and Eisner Award- winning artist Terry Beatty (THE BATMAN STRIKES), Brian Denham (IRON MAN, ANGEL) and Bruce Timm (designer for Warner Bros animated BATMAN series) and more. The book also features an article by leading Lugosi researcher and author Gary D. Rhodes.
Links:
Basil Gogos cover for Monsterverse's "Bela Lugosi's Tales
From The Grave" http://twitpic.com/1doadj
John Cassaday variant cover for Monsterverse's "Bela Lugosi's Tales
From The Grave" http://twitpic.com/25v1o3
San Diego Comic-Con photos of Monsterverse with John Cassaday, Bruce Timm and their cover art for the Lugosi horror comic book.
http://www.facebook.com/album.php?aid=231784&id=118838267124&ref=mf
AICN and new FAMOUS MONSTERS internet Editor In Chief Harry Knowles discussing ideas with MONSTERVERSE editors Kerry Gammill, Sam F. Park and Keith Wilson at the rocking pool party held by Radical Comics at the Hard Rock on Saturday night at the San Diego Comic-Con 2010!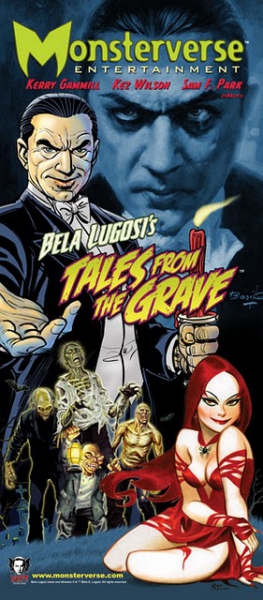 http://www.facebook.com/album.php?aid=232315&id=118838267124&ref=mf
MONSTERVERSE and BELA LUGOSI on FACEBOOK!
http://www.facebook.com/pages/Dallas-TX/Comics-from-the-MONSTERVERSE/118838267124?ref=mf
MONSTERVERSE Official Site
MONSTERVERSE on TWITTER
http://www.twitter.com/monsterverse
MONSTERVERSE PROJECTS BLOG
http://monsterverseblog.blogspot.com/
MONSTER KID ONLINE HORROR MAGAZINE:
http://gammillustrations.bizland.com/
Related posts: