The First Two Issues of Nathan Edmondson and Brett Weldele's The Light Sell Out!
From the press release:
SEEING THE LIGHT
The first two issues of Nathan Edmondson and Brett Weldele's THE LIGHT sold out at the distribution level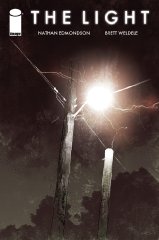 Berkeley, CA - 27 May 2021 - Image Comics announces the distribution-level sell out of THE LIGHT #1 and #2, written by Nathan Edmondson (OLYMPUS) and illustrated by Brett Weldele (SOUTHLAND TALES, THE SURROGATES). The two sold out issues will be collected under an all-new cover. Release of THE LIGHT Bumper Edition will coincide with the release of THE LIGHT #3 on June 9, 2010.
"We're excited to see that THE LIGHT is burning brightly out there," exclaims Edmondson. "This is an opportunity to let this story glow in the hands of more readers — and we're ecstatic about that!"
THE LIGHT: In Oregon, a mysterious virus infects anyone that looks into an electric light. An abusive father blindfolds his daughter and together they escape town as people are burning alive from the inside out. A fierce, action-packed and gritty tale of survival, THE LIGHT is 28 DAYS LATER meets 30 DAYS OF NIGHT.
THE LIGHT bumper edition (APR108074), a full-color 48-page comic book collecting THE LIGHT #1 and #2, will be on sale June 9, 2010, for $4.99. THE LIGHT #3 (APR100463), a 32-page full-color comic book for $2.99 will arrive in stores the same day.
Some praise for THE LIGHT:
"One new Image series that shouldn't be overlooked." — The A.V. Club
"…many critics are calling for Nathan Edmondson's (OLYMPUS) newest horror laced offering THE LIGHT to be nominated for an Eisner Award" — Bloody Disgusting
"THE LIGHT #1 is a great opening to an exceptionally spooky horror series that gets you right into the greatest scares that you can get." — Comics Should Be Good
"The Light #1 is magic, a gripping, chilling tale that is ambitious and promises to be complex." — Comic Book Bin
"Edmondson and Weldele have created a fascinating meditation on the warp speed with which we now exchange and ingest information." — Pop Matters
"When you've read this book, there's no way you won't be curious about what happens next." — Broken Frontier
Image Comics is a comic book and graphic novel publisher founded in 1992 by a collective of best-selling artists. Image has since gone on to become one of the largest comics publishers in the United States. Image currently has five partners: Robert Kirkman, Erik Larsen, Todd McFarlane, Marc Silvestri and Jim Valentino. It consists of four major houses: Todd McFarlane Productions, Top Cow Productions, Shadowline and Image Central. Image publishes comics and graphic novels in nearly every genre, sub-genre, and style imaginable. It offers science fiction, romance, horror, crime fiction, historical fiction, humor and more by the finest artists and writers working in the medium today. For more information, visit www.imagecomics.com.
Related posts: