Celebrate the Inevitable Ending with DarkBrain.com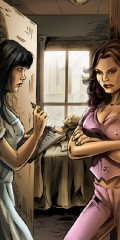 From the press release:
DarkBrain.com's most popular character is about to take her final bow, cry her final tear, exact her last revenge. Played by legendary adult film actress Tabitha Stevens, Brenna Davis, the badass cursed dominatrix in the web comic publisher's series Mirror, Mirror, debuts in the final chapter of her horrifying and chilling, yet sexy story, set to launch on Monday February 14th.
With the release of the final chapter, Mirror, Mirror will have all 104 pages of this incredible journey available on the DarkBrain.com website for free.  Readers were introduced to the seemingly bitter dominatrix Brenna one year ago and her journey has fascinated and enthralled readers by explaining Brenna's wicked curse – anyone and anyything she loves will wither and die in front of her.  Cursed and haunted by her dead sister, Brenna built a defensive wall via her dominatrix persona, a wall that has come crashing down as she has fallen in love.  The fifth and final issue of this series completes her amazing story.  Mirror, Mirror #5 will be available in flash format with voiceover narration by Stevens, Sarella Bond as Mirriam, JT Crave as Frank, Dawn Davis as Pam and joining the cast, Lois "LoLo" Burak as Nurse Hamblin. The issue will also be available in movie (MP4) format viewable on any mobile device such as iPhones, iPads, Andriods, PSPs and much more.
In celebration of the conclusion of Mirror, Mirror as a series and DarkBrain.com's first birthday, publisher and Mirror, Mirror's creator Andrew Zar is compiling all five issues into one amazing graphic novel. DarkBrain's first printed publication, Mirror, Mirror:  Forgiveness is currently on sale through their website and the first 100 copies sold will include an autograph by Tabitha Stevens and Andrew Zar.
DarkBrain.com produces original series of comics, mostly created by Andrew Zar and features the collaborated efforts of dozens of artists; each story has graphic novel quality art, an adult-oriented edgy story and voice-over narration. The website currently hosts over 400 pages of free comics, as well as offering monthly memberships that offer additional benefits such as content control, access to additional and advance content and the opportunity to enjoy comics in an ad-free environment.
Related posts: