DarkBrain.com Offers Entire Comic Lineup Free
From the press release:
DarkBrain.com Offers Entire Comic Lineup Free
Former pay-to-view webcomic site offers content at no charge.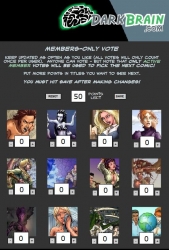 Warwick, RI, August 31, 2021 -(PR.com)- Webcomic publisher DarkBrain, LLC announced this past weekend that effective immediately, all content on their website (http://darkbrain.com) - including over 240 pages of comics - will now be available to readers at no charge. Each comic includes graphic novel quality art, original music, and voice-over narration. Stars with voicework in DarkBrain comics include adult film actresses Tabitha Stevens and Raylene, as well as rock star Tony Campos (Prong, Ministry, Asesino, Static-X).
DarkBrain produces edgy content designed specifically for PG-13 and R+-rated audiences. At its inception, the site utilized a state of the art preferences system where readers control how intense they wish their viewing experience to be. With the restructure, readers will now have free access to 12 original series on the site with preset PG-13 content. In addition, DarkBrain.com will now offer advertising space.
To reach readers who prefer R+-rated content, DarkBrain.com now offers monthly memberships. For $4.99 a month, members have access to the preference system that allows them to choose the intensity of their content, as well as access to Members-Only and pre-released content and an ad-free environment. Members may also purchase a 6-month membership for $24.95.
To improve visibility and revenue to the site, site publisher Andrew Zar found this recent change timely and appropriate. Since the change, DarkBrain.com has had over 40,000 page views per day. As an added feature, DarkBrain is also asking all registered users to vote on the titles they wish to see continue, in an attempt to streamline their product line to the trends of its readers. In addition to the survey, the stories on DarkBrain.com have been organized by genre, aiding readers in finding the content that most appeals to them.
For more information on DarkBrain, LLC or to become a member, visit http://darkbrain.com.
Media Inquiries should contact SJS Comic Promotions at [email protected].
Related posts: