The Grave Doug Freshley Debuts on Graphicly
From the press release:
SUPERNATURAL WESTERN YARN 'THE GRAVE DOUG FRESHLEY' RISES FROM THE DEAD ON GRAPHICLY
FIRST ARCHAIA ORIGINAL GRAPHIC NOVEL TO DEBUT ON GRAPHICLY WILL BE FOLLOWED BY A PRINT VERSION IN THE FALL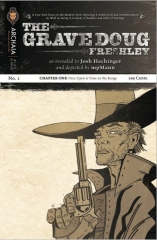 Los Angeles, CA (January 19, 2022) – As part of its ongoing commitment to integrate a comprehensive digital strategy into its publishing plan, Archaia announced that all five chapters of the full-color, original graphic novel THE GRAVE DOUG FRESHLEY are now available for download exclusively on the Graphicly digital comics platform. The first issue is being offered for free for readers to sample while subsequent issues retail for $1.99 each. A print edition collecting all five chapters plus extras and bonus material will debut in the fall.
Written by Josh Hechinger (Comic Book Tattoo, Bear Beater Bunyan, Okita and the Cat) and illustrated by mpMann (various titles for Malibu, Fantagraphics, Archaia and IDW), THE GRAVE DOUG FRESHLEY is a supernatural Western buddy comedy about a recently deceased farm hand and his rambunctious young companion seeking revenge on a family of cattle rustlers.
"The joy of digital comics is that when I approach a reader, new or old, all they need to read the comic is a computer," says writer Josh Hechinger. THE GRAVE DOUG FRESHLEY is Archaia's first graphic novel to see publication through Graphicly before a print version is released. Archaia was the first publisher to debut a graphic novel digitally on the Amazon Kindle before collecting it into a print edition. Each of the eight chapters of Tumor by Joshua Hale Fialkov and Noel Tuazon were at one time listed in the Top 20 bestselling downloads in Comics & Graphic Novels in the Kindle Store, and the subsequent print edition moved thousands of copies.
Described as equal parts Sergio Leone and Looney Toons, THE GRAVE DOUG FRESHLEY is a deft, genre-juggling blend of wry humor, slapstick action and the occasional moment of genuine pathos. Russell Lissau (Shrek, The Batman Strikes!) calls it "one of the best graphic novels I've read in a long, long time" and A. David Lewis (Mortal Coils, Some New Kind of Slaughter) describes it as "a sly, artful, and rip-snortin' run of a yarn. It's a love letter to the joy of comics and supernatural mortality play—if that letter were written on the back of a Wanted poster."
"THE GRAVE DOUG FRESHLEY is a perfect example of the kind of comics we love to see on Graphicly and we're proud to be partnering with Archaia to make it available digitally for a wide audience to check it out and enjoy," said Micah Baldwin, CEO of Graphicly.
There are multiple ways readers can access THE GRAVE DOUG FRESHLEY digitally. Readers can download the desktop app at http://graphicly.com/ and create a free account. Apple iPhone and iPad users should download the free Graphicly app from the App Store. THE GRAVE DOUG FRESHLEY is also available via the web through Graphicly's Chrome App, using Google's Chrome Browser and located at http://chrome.graphicly.com/series/the-grave-doug-freshley.
About Archaia Entertainment
Archaia has built an unparalleled reputation for producing meaningful content that perpetually transforms minds. Archaia is: Artesia, Awakening, Beautiful Scars, Berona's War, Critical Millennium, Cyclops, The Dark Crystal, Dark Fall, Days Missing, The Devil's Handshake, An Elegy for Amelia Johnson, The Engineer, Everlast, Feeding Ground, Fraggle Rock, God Machine, The Grave Doug Freshley, Gunnerkrigg Court, Hybrid Bastards!, Inanna's Tears, Johnny Recon, The Killer, Killing Pickman, Labyrinth, The Lone and Level Sands, Lucid, Miranda Mercury, Moon Lake, Mouse Guard, Mr. Murder Is Dead, Okko, One in a Million, Primordia, Return of the Dapper Men, Robotika, Saga, The Secret History, Some New Kind of Slaughter, Starkweather: Immortal, Syndrome, A Tale of Sand, Titanium Rain, Trial By Fire and Tumor.
For more information on Archaia or any Archaia titles please visit www.Archaia.com. Archaia can also be found on Facebook (facebook.com/ArchaiaEntertainment), Twitter (twitter.com/Archaia) and YouTube (www.youtube.com/ArchaiaEntertainment).
About Graphicly
Graphicly is a cutting-edge entertainment digital content delivery system and community platform, providing an immersive social experience and marketplace around digital comics and associated entertainment. With comics available via applications for the PC Desktop, iPhone, iPad, Windows Phone 7, and Google Chrome Apps, Graphicly is the premiere option for comics fans, creators and publishers alike.
For more information, please visit http://www.graphicly.com.
Related posts: