Announcing More Guests for Stumptown Comics Fest 2011
From the press release:
Announcing more Guests for STCF2011
The Stumptown Comics Fest is excited to announce these additions to our Guest List for the 8th Annual Fest: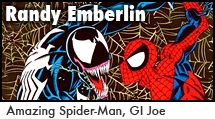 Randy Emberlin, with thirty years in the comics industry and best known for inking Amazing Spider-Man, GI Joe, Doctor Strange, Alien Legion, Ghost and recently the Left Behind series for Wildstorm. A Portland local, Randy shares his expertise with the next generation, teaching After School Drawing Classes for students in the greater Portland/Beaverton metropolitan areas and two summer art camps for 2011, The Cartooning and Comic Book Art Camp and The Animation Art Camp. Learn more about him at www.randyemberlin.com.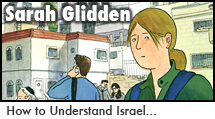 Sarah Glidden, 2008 winner of an Ignatz Award for her travelogue mini-comic How to Understand Israel in 60 Days or Less, later published in color as a Vertigo graphic novel. Brooklyn-based Sarah is currently working on a graphic novel project tentatively called Stumbling Towards Damascus, about the process of journalism and the way in which news is gathered and reported. Visit Sarah's site at www.smallnoises.com.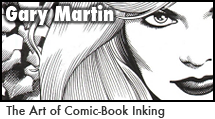 Gary Martin, best known for his how-to books The Art of Comic Book Inking and partnership with Steve Rude on The Moth and Nexus. His career as a freelance comic book inker and writer spans over twenty years, working with Marvel, DC, Image, Dark Horse and Disney on such titles as Spider-Man, Hulk, X-Men, Batman, Star Wars and Mickey Mouse. Recent works include writing an eight volume graphic novel series for Zondervan publishing, Son of Samson. See Gary's latest art at http://sky-boy.deviantart.com/.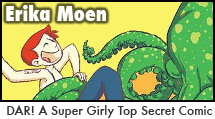 Erika Moen, free-lance cartoonist, author and illustrator of DAR and member of Portland's Periscope Studio. Fresh from her first international book signing in London, Erika's recent project is a collaboration with Jeff Parker entitled Bucko, described as a 'dick and fart joke murder mystery' launching February 1, 2022 at www.buckocomic.com. Erika holds a self-designed degree in Illustrated Storytelling from Pitzer College. Read more about Erika at www.erikamoen.com.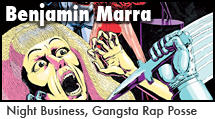 Benjamin Marra, Brooklyn-based creator of The Incredibly Fantastic Adventures of Maureen Dowd (A Work of Satire and Fiction), Night Business, Gangsta Rap Posse and founder of TRADITIONAL COMICS and co-founder of the underground illustration and design journal MAMMAL. Benjamin holds a B.F.A in Illustration from Syracuse University, where he also studied at their art program in Florence, Italy. He received an M.F.A. in Illustration from the School of Visual Arts. Check out Benjamin's blog at benjaminmarra.blogspot.com.
The Stumptown Comics Fest is the largest creator-focused comics convention in the Pacific Northwest. The Fest will be held on April 16-17, 2011 at the Oregon Convention Center. Check http://www.stumptowncomics.com, or follow us on twitter at @stumptowncomics for the latest news and announcements about the schedule and exhibitor lists. Questions about the Fest can be directed to Indigo Kelleigh at [email protected].
Related posts: