Mike Grell Named Editor-in-Chief of Arden Entertainment
From the press release: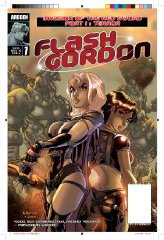 Ardden Entertainment LLC is proud to announce that legendary comic book creator Mike Grell has come aboard the company as Editor-in-Chief.
"I grew up reading Mike's comics and I am both humbled and thrilled that he has agreed to join our team," said Ardden's Co-President, Brendan Deneen. "As we head into our fourth year as a company, I couldn't think of a better person to guide us."
Grell has been working in the comic book industry for nearly 40 years and is best known for his signature creations, The Warlord and Jon Sable: Freelance. His run on DC's Green Arrow is widely acknowledged as one of the character's finest and he's also worked on such major characters as Batman, the X-Men, Iron Man, Spawn, and many others.
"After all these years on the other side of the desk, I'm excited to be part of Ardden Entertainment. This is where the action is," said Grell.
Grell will oversee Ardden's entire line, including its signature series, FLASH GORDON, which relaunches in January with its second arc, INVASION OF THE RED SWORD. Additionally, Grell will work closely on the Atlas Comics relaunch, which Ardden has partnered on with Jason Goodman, the grandson of Marvel Comics' founder, Martin Goodman.
Ardden has big plans for 2011. In addition to FLASH GORDON, the Atlas Comics relaunch, and the release of the CASPER AND THE SPECTRALS trade paperback, they will be launching several new titles, including COMEBACK KINGS, a satirical thriller in the vein of The League of Extraordinary Gentlemen by Matt Sullivan & Gabe Guarente and Ethan Young; and MINX, a supernatural thriller by Andrea Grant and Rey Arzeno. Several more titles will be announced in early 2011.
Grell joins an Ardden team that expanded in October 2010, including the appointment of Jim Krueger as the company's Consulting Editor. Rounding out the company are Cody DeMatteis, its Managing Editor; and PJ Feffer and Zach Frankel, its Assistant Editors.
Ardden Entertainment LLC was launched in April 2008 by former Miramax/Dimension Films executive Brendan Deneen and Richard Emms."
Related posts: