Create, Fund, and Distribute Mobile Comics with Robot Comics and Hukilau
From the press release:
Create, Fund, and Distribute
Mobile Comics with
Robot Comics and Hukilau
Robot Comics has officially partnered with Hukilau to offer a brand new opportunity for independent comic creators to create, fund, and distribute comics digitally on smartphones and tablets. This is an unprecedented partnership allowing creators to fully control the production of their comic - from concept to funding to creation to distribution - while working with established mobile comic professionals to create the adaptation and apps.
Robot Comics joins of a larger coalition of companies that have teamed with Hukilau to offer a one-stop resource for digital distribution, transmedia marketing, studio services, agency representation, and the ability to showcase creator work to entertainment industry professionals.
What is Hukilau?
Hukilau is a new venture that launched in July 2010, it's mission to create a new platform to create, fund and distribute independent media. In the converging media landscape, their aim is to help digital media find it's audience. Creators can propose independent projects, get them funded, produced and distributed.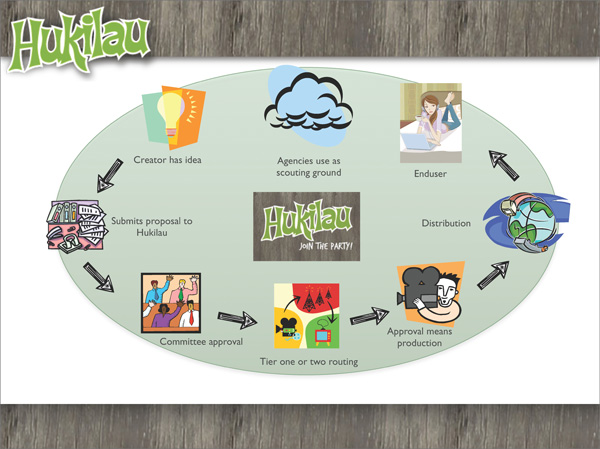 While Hukilau is the core portal for all its resources, it is through strategic partnerships with other companies that they plan to offer every possible service an independent creator might want or need.
"When we first discovered Hukilau, they'd just launched their Beta site, and they appeared poised to offer an incredible new venue for independent creators," Robot Comic's Deputy Director Dave Baxter comments. "But their current partnerships seemed tailored for handling prose books, film, and music, but nothing specifically for comics. That's where Robot Comics stepped in."
The Services
Robot Comics will offer comic creators the ability to create custom branded Android apps and iPhone/iPad apps with a long list of optional content and development features including video and audio support, soundtrack, creator commentary, vibration, frame-by-frame animation, customized controls, bonus materials, and more. All apps will be developed by Robot Comics' parent company, Robot Media, and will include the same style of successful branding and cutting edge software as Robot Comics' own Robot 13 and Scott Pilgrim's Precious Little App.
Robot 13 in Action!
How it Works
All creators will need to apply and be accepted into the Hukilau Creator's Program. Once inside, Robot Comics and the creator will review the comic project together and determine the ideal package and quote the full cost involved.
The creator then utilizes the Hukilau system to fund the project in part or in full. For more information on Hukilau, visit their website. If you're a creator, begin by signing up to the Hukilau Creator's Program.
About Robot Comics
Robot Comics publishes mobile comics for all Android devices, and also iPhone, iPad, iPod touch, Nintendo DSi and the Amazon Kindle. It is one of first and few mobile comic publishers who offer titles specifically designed and formatted to be read on mobile devices.
Related posts: