Image Comics Collects the Hard-to-Find Origin Stories of the Perhapanauts
From the press release:
FIRST BLOOD AND SECOND CHANCES
Image Comics collects the hard-to-find origin stories of the Perhapanauts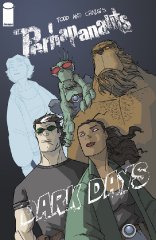 Berkeley, CA - 10 June 2021 - How did Big Foot, a chupacabra, the Mothman and an assortment of other people, human and fantastic alike, become part of an organization dedicated to protecting the world from the strange and terrible creatures that lurk in the dark? THE PERHAPANAUTS, VOL. 0: DARK DAYS by writer Todd Dezago and artist Craig Rousseau will answer that question on September 8, 2010.
THE PERHAPANAUTS, VOL. 0 collects in one massive tome, for the first time, the time-lost tales of the Perhapanauts from their hard-to-find FIRST BLOOD and SECOND CHANCES miniseries! See the origins and early adventures of the most mysterious, thrilling and, at times, hilarious paranormal team in comics! This is where it all started! The book also features several back-up stories and a pin-up gallery by some of the industry's finest!
"Arisa, Big, Choopie, and all the agents of Bedlam had the start somewhere," states Dezago. "DARK DAYS collects their origin stories with all the action, supernatural crime fighting and humor you expect of THE PERHAPANAUTS! We're pumped to make these stories accessible to new and old fans alike."
THE PERHAPANAUTS, VOL. 0: DARK DAYS, a 240-page full color trade paperback for $17.99, will be in stores September 8, 2010.
Image Comics is a comic book and graphic novel publisher founded in 1992 by a collective of best-selling artists. Image has since gone on to become one of the largest comics publishers in the United States. Image currently has five partners: Robert Kirkman, Erik Larsen, Todd McFarlane, Marc Silvestri and Jim Valentino. It consists of four major houses: Todd McFarlane Productions, Top Cow Productions, Shadowline and Image Central. Image publishes comics and graphic novels in nearly every genre, sub-genre, and style imaginable. It offers science fiction, romance, horror, crime fiction, historical fiction, humor and more by the finest artists and writers working in the medium today. For more information, visit www.imagecomics.com.
Related posts: