Image Comics Shed the Light on Horror This April!
From this press release:
IMAGE COMICS SHEDS THE LIGHT ON HORROR THIS APRIL!
Surrogates Artist Brett Weldele and Olympus Writer Nathan Edmondson Kick Off Tale of Survival Horror in April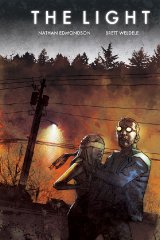 BERKELEY, CA — 19 January 2022 — This April Surrogates illustrator Brett Weldele and OLYMPUS writer Nathan Edmondson warn you to close your eyes in their five-issue tale of survival horror, THE LIGHT!
"THE LIGHT is everything I love about horror combined into one story," Edmondson explained. "From a terror rooted in something everyone can relate to and broken protagonists doing their best to overcome absolute despair, this is the comic I've been wanting to read.  Brett brings it to life with stunning visuals that grow in intensity as the story progresses."
In THE LIGHT, a mysterious virus infects anyone that looks into an electric light. The few survivors include a father escaping town with his blindfolded daughter as the infected burn alive from the inside out. A fierce, action-packed and gritty tale of survival, THE LIGHT is 28 DAYS LATER meets 30 DAYS OF NIGHT.
THE LIGHT #1, a 24-page full color comic book with a cover price of $2.99, will be available for order in the February issue of Previews and goes on sale April 14.
Image Comics is a comics and graphic novels publisher formed in 1992 by a collective of best-selling artists.  Since that time, Image has gone on to become one of the largest comics publishers in the United States. There are currently five partners in Image Comics (Robert Kirkman, Erik Larsen, Todd McFarlane, Marc Silvestri, and Jim Valentino), and Image is currently divided into four major houses (Todd McFarlane Productions, Top Cow Productions, Shadowline, and Image Central). Image comics and graphic novels cover nearly every genre, sub-genre, and style imaginable, offering science fiction, romance, horror, crime fiction, historical fiction, humor, and more by the finest artists and writers working in the medium today. For more information, visit 
www.imagecomics.com
.
Related posts: