Nick Spencer Teaches an Advanced Course in Sci-fi Mystery with Morning Glories
ARE YOU PREPARED FOR THIS PREP SCHOOL?
Nick Spencer Teaches an Advanced Course in Sci-fi Mystery with MORNING GLORIES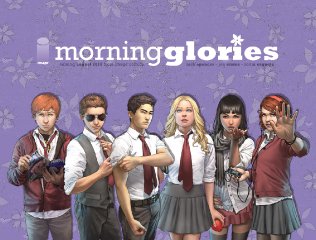 Berkeley, CA - 20 May 2021 - In August, Nick Spencer - the writer behind the critically acclaimed titles EXISTENCE, FORGETLESS and SHUDDERTOWN — will school readers in sci-fi, mystery, and teen angst with MORNING GLORIES, an all new series published by Image Comics. Illustrated by phenom Joe Eisma (Existence 3.0) with gorgeous covers by Rodin Esquejo (Fractured Fables), the series launches with a double-sized first issue on August 11, 2010.
"MORNING GLORIES is RUNAWAYS meets LOST," exclaims Spencer. "I'm excited to offer readers a book that combines a challenging sci-fi mystery with the humor and charm of a teen adventure. This is a book that will keep the audience on the edge of its seat and coming back for more month after month, trying to put the pieces together — and with Joe Eisma on art and Rodin Esquejo on covers, it's presented in an all-star package that will really make the book shine."
"This latest series from Nick Spencer may be his best yet," says Shadowline Publisher Jim Valentino. "If you haven't yet discovered why the critics are all raving about him, this is a perfect opportunity to learn. And rising talents Joe Eisma and Rodin Esquejo are knocking it out of the park for this baby, too."
MORNING GLORIES is the most anticipated new series of the year! Morning Glory Academy is one of the most prestigious prep schools in the country. But behind it's hallowed doors, something sinister and deadly lurks. When six brilliant but troubled new students arrive, they find themselves trapped and desperately seeking answers in a place where nothing is what it seems to be!
MORNING GLORIES #1, a special double-sized 44-page full-color series launch for $3.99, will be available August 11, 2010.
Image Comics is a comic book and graphic novel publisher founded in 1992 by a collective of best-selling artists. Image has since gone on to become one of the largest comics publishers in the United States. Image currently has five partners: Robert Kirkman, Erik Larsen, Todd McFarlane, Marc Silvestri and Jim Valentino. It consists of four major houses: Todd McFarlane Productions, Top Cow Productions, Shadowline and Image Central. Image publishes comics and graphic novels in nearly every genre, sub-genre, and style imaginable. It offers science fiction, romance, horror, crime fiction, historical fiction, humor and more by the finest artists and writers working in the medium today. For more information, visit www.imagecomics.com.
Related posts: