Video: The First Look at the Official Trailer for The Losers
The trailers for The Losers has been released! Check out out below, and see beyond the jump for details on the movie:
The Losers is a Warner Brothers movie, and is directed by Sylvain White, with a script by Peter Berg and James Vanderbilt, who wrote the screen play loosely based on the first story arc from The Losers comic, collectively called 'Ante Up'.
The Losers has U.S. release date of 16th April 2010.
Check out the official web site for the movie at http://www.the-losers.com/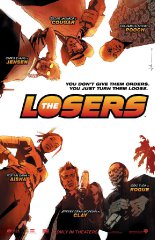 The Losers is originally a comic book series published by the Vertigo imprint of DC Comics, written by Andy Diggle and illustrated by Jock. It ran for 32 issues from August 2003 to March 2006. The idea was very loosely based on the original Losers for DC Comics, a group of World War II soldiers, although Andy Diggle maintains he has never read a single issue of the original series. In 2004 The Losers was  Nominated for the "Best New Series" Eisner Award & for the "Favourite New Comicbook" Eagle Award. In 2006 Jock was nominated for the "Best Cover Artist" Eisner Award.
The cast of the upcoming movie has been announced as:
Chris Evans as Jensen
Jeffrey Dean Morgan as Clay
Zoe Saldana as Aisha
Jason Patric as Max
Idris Elba as Roque
Columbus Short as Pooch
Óscar Jaenada as Cougar
Related posts: