Markosia Celebrates the Launch of The Dark with a Prize Draw For Twitter Followers
From the press release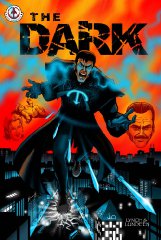 Markosia Enterprises solicited the much anticipated original graphic novel The Dark in the January 2010 edition of Diamond Comic Distribution's Previews catalogue (order code: JAN100699). 100 pages in length, the graphic novel contains the complete story as devised by UK scribe Chris Lynch and US based artist Rick Lundeen and has already attracted praise from both reviewers and podcasters.
As well as providing readers with an extended eighteen page free preview, Markosia today launched a Twitter based campaign to spread the word about The Dark and offered loyal followers the chance to win a copy of the book signed by author Chris Lynch and artist Rick Lundeen. (Click here to see my recent interview with the creators.)
All you have to do to enter is tweet the URL "http://www.thedarkcomicbook.com" before January 31st 2010. Full terms and conditions of the prize draw can be found on the website -
http://www.thedarkcomicbook.com
WHAT IS THE DARK ?
Branded "The Dark Knight meets The Matrix" by reviewers, The Dark is the story of Daniel Abbot, a brilliant young scientist on the fringes of the establishment and the
creator of Memetech - a technology that encodes information and memories into a liquid form, allowing anyone to "drink" the information. Terrified that his invention will be used
for military purposes he decides to destroy his research, but not before he takes one last trip … with disastrous results.
Two years on, and the Memetech genie is out of the bottle. Abbot, having perfected his own version of the technology, fights a one-man war against the spread of his own
invention and the collapse of our information culture in the guise of "The Dark". Aided by an artificial intelligence nicknamed Howard Hughes, Abbott creates "The Baffler" – a
coat made of Memetech that gives his the edge over his enemies. Capable of injecting information directly into this brain and firing Memetech flechettes to hit others with bursts
of pure information, The Baffler is both weapon and disguise in Daniel Abbot's war against his own creation.
When The Dark uncovers a plot to set off Memetech bombs across the whole of the city Dante, filling the air with liquid information and creating a new society of his enemy's
devising, The Dark is plunged into a desperate race against time against his own But, not everything is what is seems. Who is the new and mysterious enemy who seems to know The Dark's every move? How did the Memetech, thought destroyed, reappear? Why can't Daniel wake his wife and son? And why is everyone else in Dante named after an English poet?
Mixing high octane super-hero action with hard science-fiction in a world of overlapping realities and fantasies, the story offers the reader the opportunity to solve the mystery of
just what is real in the world of The Dark before even the hero can.
Chris Lynch on hidden messages in The Dark
"We've hidden lots of coded messages throughout the book," explains Lynch, "Both in the dialogue and in the artwork. From the symbol on The Dark's chest to adverts in the
background, everything is there for a reason. Hopefully people will get a kick out of trying to solve the mystery, or at least from looking back after they've read the book for the first
time to find all the clues they missed. Either way, we wanted to create something with enough depth to bring people back to re-read the story time and again."
Related posts: