'Four Color Memories' - by K. Patrick Glover - Installment The Sixth, In Which We Happily Spend Money Like Good Little Consumers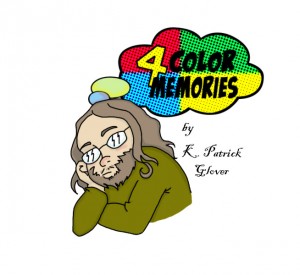 'Four Color Memories' by K. Patrick Glover
K. Patrick Glover is the writer of the upcoming webcomic The Invisible Skein, which is being illustrated by Amanda Hayes, and the first chapter of the story is set to appear on the web on December 14th.
'Four Color Memories' is a column about the comics of our youth, full of nostalgia for the days when heroes were heroes and villains were villains, before the Avengers were DARK and before the Lanterns were BLACK.
Today Kevin takes a look back at some of his very favourite collections over the years.
To see a directory of previous installments of the column, please click here!

Installment the Sixth,
In Which We Happily Spend Money Like Good Little Consumers
Hello fellow travelers. We've got a light column this week, due to family and work schedules, but we'll be back with full meanderings next week. In the meantime, since the holiday shopping season is upon us, I've put together a list of gift ideas for your nostalgic friends and family. Some of the volumes below are readily available at Amazon or your local comic shop, others may be out of print and could require a little searching. But isn't the searching half the fun?
The Complete Jon Sable, Freelance – IDW's snazzy reprints of the classic Mike Grell series look great and the 8 volumes contain some of the best thrillers ever done in the medium. If your giftee enjoys James Bond or Jason Bourne, this is the comic for them. (Amazon links: Volume 1, Volume 2, Volume 3, Volume 4, Volume 5, Volume 6, Volume 7, Volume 8)
Cerebus, Volume 2: High Society – Dave Sim's controversial aardvark has pushed a lot of buttons over the years and I wouldn't be comfortable recommending the entire saga to anyone who wasn't familiar with the material. That said, High Society is probably the best of the best and should be enjoyable to just about any reader with a sense of humor.
Howard The Duck Omnibus – Steve Gerber's sarcastic masterpiece is available in a single, oversized hardcover from Marvel and has never looked better. It's amazing how much of the social commentary holds true today, 30 plus years later. (also available in the black and white Essential series)
Batman: Strange Apparitions – You might have to do a little digging to find this gem, but it's well worth it. Englehart & Rogers crafted the finest run on Batman ever and these 70's stories from Detective Comics will knock the socks off any fan of the Bat.
The Complete Ballad of Halo Jones – Before he crossed the pond and revolutionized American comics, Alan Moore was doing some pretty incredible stories in Britain's own 2000 A.D. This volume contains some of his best work, a bleak but inspiring piece of science fiction.
Daredevil: Born Again – Frank Miller's often neglected second run on Daredevil is now available in a beautiful Premiere Hardcover edition from Marvel. The page where the Avengers show up is worth the price of admission all on its own.
Avengers: The Kree/Skrull War – Marvel's first big, cosmic epic, this one set the stage for much of what followed, from the Infinity Gauntlet to Annihilation. A tight script by Roy Thomas and beautiful art by Sal Buscema and Neal Adams both add weight to this mighty tome.
Justice League International – DC has reprinted four volumes (so far) of what has to be the funniest incarnation of the league, the classic 80's run by Keith Giffen, J.M. Dematteis, and Kevin MaGuire. Available in both hardcover and trade paperback. (Amazon links: Volume 1, Volume 2, Volume 3, Volume 4)
Lazarus Churchyard: The Final Cut – An early creation of author Warren Ellis and artist D'Israeli, Lazarus is a wild, weird ride. It's easy to spot themes that Ellis would delve into more deeply later in his career, but here everything comes fast and furious. Out of print (I think), but worth the hunt.
There are other, more obvious pieces out there as well, but I don't think anyone needs yet another column telling them to buy Watchmen or Sandman(and both are fantastic reads) so I tried to stick to the less obvious choices. Your mileage may, of course, vary.
See you next week,
K. Patrick Glover

Ancillary matters -
Notice the clever new logo? That's courtesy of the one and only Amanda Hayes, artist of The Invisible Skein, which launches Dec 14th at http://www.theinvisibleskein.com
I can be found regularly at my blog, http://kpatrickglover.wordpress.com or on the Twitter thing at http://www.twitter.com/kpatrickglover
Related posts: