VIZ Manga App Presents Four New Manga Titles for iPad, iPhone and iPod Touch
From the press release:
VIZ MANGA APP PRESENTS FOUR NEW MANGA TITLES FOR iPAD, iPHONE AND iPOD TOUCH
VIZ MANGA APP To Offer HOUSE OF FIVE LEAVES, not simple, MAOH: JUVENILE REMIX And HYDE & CLOSER; Additions To 17 Other Popular VIZ Media Manga Series Also Announced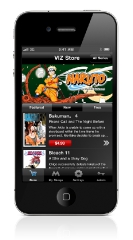 VIZ Media has announced four new manga (graphic novel) series that will be offered for digital download within the VIZ MANGA APP for the Apple iPad™, iPhone™ and iPod™ Touch. The latest update offers two acclaimed works from celebrated manga creator Natsume Ono – HOUSE OF FIVE LEAVES and not simple – that are available now. Two additional new series – MAOH: JUVENILE REMIX and HYDE & CLOSER – will debut for digital download on May 9th and May 16th respectively. Updates for the first half of May to 17 other popular manga series have also been announced.
The VIZ MANGA APP is now available for free for the iPad, iPhone and iPod Touch through the iTunes Store, and all manga volumes are generally available for purchase and download in the U.S. and Canada from within the application for only $4.99 (U.S. / CAN) per volume.
In Natsume Ono's HOUSE OF FIVE LEAVES (rated 'T+' for Older Teens), a wandering samurai Akitsu Masanosuke is a skilled and loyal swordsman, but his naïve and diffident nature has time and again caused him to be let go by the lords who have employed him. Hungry and desperate, he becomes a bodyguard for Yaichi, the charismatic leader of a gang called "Five Leaves." Although disturbed by the gang's sinister activities, Masa begins to suspect that Yaichi's motivations are not what they seem. And despite his misgivings, the deeper he's drawn into the world of the Five Leaves, the more he finds himself fascinated by these devious, mysterious outlaws.
Natusume Ono's not simple (rated 'T+' for Older Teens) tells the story of Ian, a young man with a fractured family history, travels from Australia to England to America in the hope of realizing his dreams and reuniting with his beloved sister. His story unfolds backwards through the framing narrative of Jim, a reporter driven to capture Ian's experiences in a novel titled, not simple.
Don't miss Natsume Ono's rare U.S. personal appearance at Kinokuniya Books in New York City on Tuesday, May 10th starting at 7:00pm.
Manga creator Megumi Osuga's MAOH: JUVENILE REMIX (rated 'T+' for Older Teens) features a boy with special powers who may be the key to stopping the spread of crime, big money and urban sprawl in a story of confrontation and determination. Ando is a high school student who has the power to make others say out loud what he's thinking. Inukai is the mysterious leader of a vigilante group called Grasshopper, which is at odds with the city's redevelopment plan. In this chaotic city, these two will come together to weave a story of courage.
The fantasy driven action of creator Haro Aso's HYDE & CLOSER introduces readers to Shunpei Closer, your average… well, slightly below average kid in junior high who finds himself in the middle of a great battle of dark sorcery. With cursed dolls coming after him one after another, Shunpei Closer's life is in danger! If that weren't enough, Hyde, the teddy bear given to him by his grandfather, suddenly comes alive to rescue him. With Hyde's help, can Shunpei save himself and live to see another day?
Additional new VIZ Media manga volumes available the weeks of May 2nd, May 9th and May 16th include:
May 2nd:
ABSOLUTE BOYFRIEND Vol. 3
CAPTIVE HEARTS Vol. 5
DEATH NOTE Vol. 12
DRAGON BALL Z Vol. 7
KEKKAISHI Vol. 3
NARUTO Vol. 24
ONE PIECE Vol. 24
ROSARIO + VAMPIRE Vol. 5
RUROUNI KENSHIN Vol. 12
May 9th:
BLACK BIRD Vol. 3
BLEACH Vol. 14
CLAYMORE Vol. 9
D. GRAY MAN Vol. 10
DRAGON BALL Z Vol. 8
FUSHIGI YUGI: GENBU KAIDEN Vol. 2
NARUTO Vol. 25
ONE PIECE Vol. 25
OURAN HIGH SCHOOL HOST CLUB Vol. 6
May 16th:
ABSOLUTE BOYFRIEND Vol. 4
DRAGON BALL Z Vol. 9
KEKKAISHI Vol. 4
NARUTO Vol. 26
NURA RISE OF THE YOKAI CLAN Vol. 2
ONE PIECE Vol. 26
OTOMEN Vol. 6
ROSARIO + VAMPIRE Vol. 6
RUROUNI KENSHIN Vol. 13
The VIZ MANGA APP is the leading application to read Japanese manga on the iPad, iPhone and iPod Touch, with an extensive downloadable library of the most popular manga series in the world. The app now offers almost 200 volumes available for download. Readers are encouraged to check the app regularly, as new additions to the store and free Chapter 1 previews of other forthcoming manga series are featured.
For more information on the VIZ MANGA APP, please visit www.VIZ.com/apps/.
Related posts: