To Celebrate Their New 'Living Corpse' Series, Dynamite Offers First Issue of Original for Free
From the press release:
DYNAMITE ENTERTAINMENT EXHUMES THE LIVING CORPSE!
NEW SERIES LAUNCHES IN AUGUST!
READ THE ENTIRE FIRST ISSUE OF THE ORIGINAL THE LIVING CORPSE SERIES ABSOLUTELY FREE!
June 21, 2011, Runnemede, NJ - In honor of the launch and upcoming release of the next - and newest - The Living Corpse series - Dynamite Entertainment is providing THE ENTIRE FIRST ISSUE OF THE ORIGINAL THE LIVING CORPSE SERIES ABSOLUTELY FOR FREE!!! In Living Corpse: Exhumed #1 (of 6) shipping in August 2011, it's hard enough to be The Living Corpse - the flies, the hunger for human brains and the unending task of holding off the hordes of darkness from creeping into the world of the living. But when a Nosferatu suddenly moves into his graveyard, all hell breaks loose! And what will happen when The Living Corpse's friend, Lilith, get's caught in the middle? It's a battle of the undead and only one will be left standing! (here's a hint… the name of the book ain't Nosferatu!)
As well as serving as publisher of The Living Corpse comic, Dynamite is also branching out as producers on the brand new Living Corpse CGI animated movie, currently wrapping up production and looking at a 2011 release date from Shoreline Entertainment. Look for The Living Corpse: Exhumed #1 as well as the first trade paperback collecting the first 9 SOLD-OUT issues of the series to arrive in stores this coming August!
"I couldn't be happier to have found a home with Dynamite," says Living Corpse co-creator Ken Haeser. "They have a great, growing line of horror-themed comics like Army of Darkness, Vampirella and the Chaos! comic characters. I know we are in great hands with them."
"Being involved with Dynamite is a dream come true," says Living Corpse co-creator Buz Hasson. "They're an A list comic company and I'm honored to have the Living Corpse become a house name for them."
The Living Corpse follows the adventures of a self aware "zombie" who acts as a "gatekeeper" between the land of the living and the horrors that lie in the shadows. But this isn't your daddy's zombie comic.
"It's a zombie comic in that the main character is a zombie who does eat human brains," says Haeser. "But our zombie is a good guy… well, as good as a zombie who eats brains can get!"
"The Living Corpse is a movie that we are very proud of, so we are extremely excited that Dynamite Entertainment will be publishing the new books," said Morris Ruskin, CEO of Shoreline Entertainment and executive producer on the Living Corpse animated film. "Ken Haeser and Buz Hasson are incredible artists and fantastic storytellers whose talents will really shine with Dynamite's terrific team behind them."
"Ken and Buz are both great talents who have a dedicated audience, and we hope to create additional awareness and build on their audience.  Their comic is really cool, and we're enjoying working with him on The Living Corpse," says Dynamite President and Publisher Nick Barrucci. "I am so glad that we are able to bring fans the next chapter!"
THE LIVING CORPSE: EXHUMED #1 (of 6)
Written by KEN HAESER
Art by KEN HAESER AND BUZ HASSON
Covers by HAESER/HASSON (50%), JEFF ZORNOW (Halloween and Godzilla comics) (25%) & a Movie exclusive cover (25%)
Also available is a limited edition sketch cover.
THE LIVING CORPSE: POST MORTEM vol. 1 Trade paperback
By KEN HAESER AND BUZ HASSON
230 pages collecting The Living Corpse #0, ½, 1-6 and Annual #1
REVIEWS: "If you're a fan of brain-sucking/flesh-eating zombie movies and think you've seen every rotted incarnation of these soulless creatures imaginable, you haven't met The Living Corpse yet."
-Fangoria magazine
"A fun and gory romp in the tradition of Sam Raimi's Evil Dead films."
-Rue Morgue magazine
"A surprisingly good, refreshing take on the zombie genre."
-Philadelphia Daily news
"Gory and funny and oddly touching."
-Paperback Reader
"This comic has balls, there is no other word that can really describe it."
-Reviewbusters.net
"The Living Corpse features bold, eye-catching illustrations that make its characters pop off the pages"
-Fandomania.com
http://fandomania.com/comic-review-the-living-corpse-annual-1-the-living-corpse-vs-hackslash/
"A slick, fun horror-comedy comic book"
-Weekly Comic Book Review
http://weeklycomicbookreview.com/2009/04/17/the-living-corpse-annual-1-guest-starring-hackslash-review/
"These guys know what is going on! I can not get over how great the visuals are."-Comic Related
http://comicrelated.com/news/2300/the-living-corpse-5-and-6
"Really, this is one of the great indies."
-Paperback Reader
http://www.paperbackreader.com/newcolumn2.php?ColumnID=617
"If you're looking for a zombie book that's different from the rest of those undead tales, then check out THE LIVING CORPSE."
-Buried.com
http://www.buried.com/fictionreviews/horror.php?id=337
"If you like to laugh and if you enjoy zombies, this book is worth every penny."
-Captain Blue Hen Comics
http://www.captainbluehen.com/index.php?s=alive
"This comic is one of the freshest ideas I have run across"
LOP Magazine
http://www.horrornewsnetwork.net/modules.php?name=Forums&file=viewtopic&t=7569&f=3
"A zombie book with brains!"
Comic Monsters.com
http://www.comicmonsters.com/section-article-192The_Living_Corpse__1_Review.html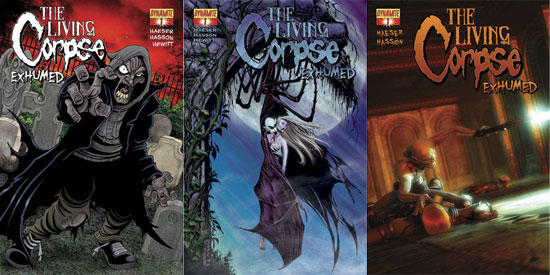 To find a comic shop near you, call 1-888-comicbook or visit www.comicshoplocator.com
For art and more information, please visit:
ABOUT DYNAMITE ENTERTAINMENT:
DYNAMITE ENTERTAINMENT was founded in 2004 and is home to several best-selling comic book titles and properties, including The Boys, Green Hornet, Vampirella, Warlord of Mars, Project Superpowers, Robert Jordan's Wheel of Time and more!
In addition to their critically-acclaimed titles and best selling comics, Dynamite works with some of the most high profile creators in comics and entertainment, including Alex Ross, John Cassaday, Garth Ennis, Michael Avon Oeming, Mel Rubi, Marc Guggenheim, Stephen Sadowski, Mike Carey, Jim Krueger, Greg Pak, Brett Matthews, Matt Wagner and a host of up and coming new talent!
DYNAMITE is consistently ranked in the upper tiers of comic book publishers and several of their titles - including PROJECT SUPERPOWERS - which debuted at #4 in the Top Ten lists produced by Diamond Comics Distributors. In 2005 Diamond awarded the company a GEM award for Best New Publisher and another GEM in 2006 for Comics Publisher of the Year (under 5%). The company has also been nominated for several industry awards, including the prestigious Eisner Award.
Dynamite also controls and owns multiple library's, including but not limited to the Vampirella library of casts and characters, The Superpowers library of characters, The Kirby: Genesis world of characters, and the Chaos! Comics universe of characters.
Related posts: