Win Original Reed Gunther Artwork While Supporting Your Local Comic Book Store
From the press release:

REED GUNTHER: WANTED IN YOUR LOCAL COMIC SHOP!
Win Original Reed Gunther Artwork While Supporting Your Local Comic Book Store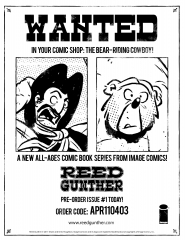 Berkeley, CA – 20 April 2021 – REED GUNTHER, the creator-owned, all-ages adventure begins on June 1st, and the creators want you to take part in the fun! Join fans across the country at local comic book shops and order REED GUNTHER #1 for a chance to win an original page of art from the book!
By hanging a REED GUNTHER Wanted poster in their local comic shop (which can be printed out at www.reedgunther.com), fans will be entered into the contest for a chance to win an original page from issue #1 drawn by the series artist, Chris Houghton. Once the poster is displayed, fans can email a photo of themselves with the REED GUNTHER Wanted poster and send it to the creators at [email protected]. The contest ends on April 28th, so be sure to visit your local shop soon!
Don't know where the nearest comic book shop is? Visit http://www.comicshoplocator.com/ to find out!
"This is a really easy way to score some original artwork," said writer Shane Houghton. "Chris generously gives me a page after we complete an issue, and I tell you, nothing keeps you warmer in the winter than original artwork."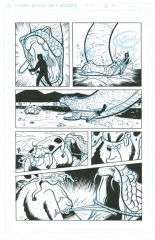 Artist Chris Houghton humbly added: "This is a page from the first issue. If Reed Gunther ever gets as big as one of those caped superheroes, just think of how much that'll bring in for you! We're basically giving you your retirement fund!"
Creators Shane and Chris Houghton are excited to help their fans spread the word about the upcoming REED GUNTHER #1 and to encourage local comic shops to explore this new Image Comics book full of all-ages adventure and fun.
REED GUNTHER #1 (APR110403), a 32-page full color all-ages western comedy for $2.99, will come galloping full speed into a comic store near you on June 1, 2011. For contest rules and details, as well as more information on Reed Gunther, Sterling, and all their unruly friends and foes, visit www.reedgunther.com.
ABOUT IMAGE COMICS
Image Comics is a comic book and graphic novel publisher founded in 1992 by a collective of best-selling artists. Image has since gone on to become one of the largest comics publishers in the United States. Image currently has five partners: Robert Kirkman, Erik Larsen, Todd McFarlane, Marc Silvestri and Jim Valentino. It consists of five major houses: Todd McFarlane Productions, Top Cow Productions, Shadowline, Skybound and Image Central. Image publishes comics and graphic novels in nearly every genre, sub-genre, and style imaginable. It offers science fiction, romance, horror, crime fiction, historical fiction, humor and more by the finest artists and writers working in the medium today. For more information, visit www.imagecomics.com.
Related posts: