Joe Benitez Adds a New Variant Cover for Avengelyne #1
From the press release:
AVENGELYNE SLAYS WITH A NEW COVER
Joe Benitez Adds a New Variant Cover for Avengelyne #1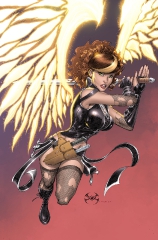 Berkeley, CA – 28 June, 2011 – To mark the return of one of Rob Liefeld's classic characters to the world of comics, acclaimed cover artist Joe Benitez (Lady Mechanika, Green Hornet, GI Joe) brings his unique style to a special variant cover for AVENGELYNE #1.
Created by Image Comics founder Rob Liefeld over 15 years ago, the fallen angel Avengelyne's quest for redemption is brought back into the forefront of comics by writer Mark Poulton (Koni Waves) and artist Owen Gieni (Sore Thumbs). Together, this new creative team takes this freshly redesigned supernatural heroine on an epic and tantalizing adventure through the sin-filled streets of New York City. Will Avengelyne be able to stop New York's newest serial killer, Torment, and who has the mysterious Red Dragon chosen as his newest human host? The adventure begins this July in AVENGELYNE #1, only from Image Comics!
The Joe Benitez variant of AVENGELYNE #1 (MAY110434), along with variant covers by series creator Rob Liefeld (MAY110432) and interior artist Owen Gieni (MAY110433), will go on sale July 20th, 2011 for $2.99 and is available for order now.
ABOUT IMAGE COMICS
Image Comics is a comic book and graphic novel publisher founded in 1992 by a collective of best-selling artists. Image has since gone on to become one of the largest comics publishers in the United States. Image currently has five partners: Robert Kirkman, Erik Larsen, Todd McFarlane, Marc Silvestri and Jim Valentino. It consists of five major houses: Todd McFarlane Productions, Top Cow Productions, Shadowline, Skybound and Image Central. Image publishes comics and graphic novels in nearly every genre, sub-genre, and style imaginable. It offers science fiction, romance, horror, crime fiction, historical fiction, humor and more by the finest artists and writers working in the medium today. For more information, visit www.imagecomics.com.
Related posts: