A Sneak Peek at the Beasts of Burden Story from Dark Horse Presents #4
From the solicitation:
DARK HORSE PRESENTS: BEASTS OF BURDEN!
THE RETURN OF THE PACK IN DHP #4!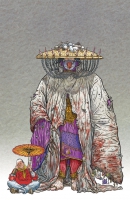 June 29, MILWAUKIE, OR—Coming to you fresh from the upcoming eighty-page spectacular, Beasts of Burden returns in Dark Horse Presents #4!
Evan Dorkin and Jill Thompson's lovable and crafty team of critters is back in action for a story that will tempt your taste buds and leave you wanting more!
Adventure, mystery, horror, and humor thrive on every page of Beasts of Burden—a comic-book series that will capture readers' hearts and haunt their dreams.
Award-winning comics creators Evan Dorkin (Milk and Cheese) and Jill Thompson (Scary Godmother) first introduced these very special investigators in The Dark Horse Book of Hauntings and the other Dark Horse Book of . . . anthologies, for which they won coveted Eisner Awards for Best Short Story and Best Painter.
Evan and Jill will both be in attendance at San Diego Comic-Con 2011!
Looking for more Beasts of Burden? Check out the free comic on DarkHorse.com: http://www.darkhorse.com/Features/eComics/1090/Beasts-of-Burden.
Preview Pages:
About Dark Horse Comics
Since 1986, Dark Horse Comics has proven to be a solid example of how integrity and innovation can help broaden a unique storytelling medium and establish a small, homegrown company as an industry giant. The company is known for the progressive and creator-friendly atmosphere it provides for writers and artists. In addition to publishing comics from top talent like Frank Miller, Mike Mignola, Neil Gaiman, Gerard Way, and comics legend Will Eisner, Dark Horse has developed such successful characters as the Mask, Timecop, and SpyBoy. Additionally, its highly successful line of comics and products based on popular properties includes Star Wars, Indiana Jones, Buffy the Vampire Slayer, Aliens, Conan, Emily the Strange, Tim Burton, Trigun, Serenity, and Domo. Today Dark Horse Comics is the largest independent comic-book publisher in the US and is recognized as one of the world's leading publishers of licensed comics material.
Related posts: