Beasts of Burden Returns in Dark Horse Presents!
Fantastic news!
From the press release:
EVAN DORKIN AND JILL THOMPSON'S EISNER AWARD–WINNING SERIES BEASTS OF BURDEN RETURNS IN DARK HORSE PRESENTS!
THREE STANDALONE STORIES TO APPEAR IN
ISSUES #4, #6, AND #8!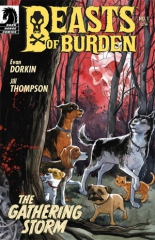 MAY 10, MILWAUKIE, OR—Following up on yesterday's announcement of daily Dark Horse Presents news this week, we are excited to announce the return of one of Dark Horse's most successful new creator-owned series, Beasts of Burden!
For the uninitiated, this beautifully illustrated series follows a unique team of paranormal investigators, all neighborhood pets, and their quest to keep the town of Burden Hill safe from the evil forces lurking in the shadows.
Award-winning comics creators Evan Dorkin (Milk and Cheese) and Jill Thompson (Scary Godmother) first introduced these very special investigators in The Dark Horse Book of Hauntings and the other Dark Horse Book of . . . anthologies, for which they won coveted Eisner Awards for Best Short Story and Best Painter. In 2009, the beasts of Burden Hill received their own miniseries, Animal Rites, which garnered widespread critical acclaim. In 2010, they met up with Mike Mignola's Hellboy, cementing these unlikely heroes in the pages of Dark Horse history.
Now, Evan and Jill's pet protagonists return again with three eight-page stories in upcoming issues of the flagship title Dark Horse Presents!
"I was a contributor to the original run of Dark Horse Presents and also did some work for the MySpace version, so it's been very cool to be able to also take part in the newest incarnation of the anthology," said writer Evan Dorkin. "These new stories take place shortly after the events of the Hellboy crossover from last year, are self-contained, and can be easily followed by folks who haven't read the previous comics. I hope our regular readers will enjoy these stories—Jill's painted artwork is as amazing as always, and there are character and background details dropped throughout the episodes that add to the overall story line we've been building."
Look for their first appearance in issue #4 of the eighty-page anthology, on sale in September!
Related posts: