Star Wars: the Old Republic Volume 2 - Threat of Peace Sells Out!
From the press release: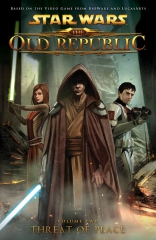 May 25, MILWAUKIE, OR – Hot off the presses, Star Wars: The Old Republic Vol. 2 Threat of Peace has sold out of its first printing!
But wait, Star Wars: The Old Republic Vol. 1 Blood of the Empire has sold out of stock as well!
Volume 2 collects Star Wars: The Old Republic #1-27, which originally appeared online at swtor.com.
Star Wars: The Old Republic is written by Rob Chestney, one of the writers behind LucasArts and BioWare's wildly anticipated massive multiplayer online game, Threat of Peace unveils a galaxy on the brink of destruction three hundred years after the events of Knights of the Old Republic!
For decades, the Galactic Republic and the Sith Empire have been at war. The Sith have gained control of the Outer Rim, but their efforts to penetrate the Core Worlds have so far been thwarted. Now, representatives from both sides attempt to negotiate a peace treaty—but deception by the Sith puts the Jedi in an unfortunate position.
Star Wars: The Old Republic Vol. 1 Blood of the Empire next printing is expected July 20th.
Star Wars: The Old Republic Vol. 2 Threat of Peace 2nd printing is expected August 17th.
About Dark Horse Comics
Since 1986, Dark Horse Comics has proven to be a solid example of how integrity and innovation can help broaden a unique storytelling medium and establish a small, homegrown company as an industry giant. The company is known for the progressive and creator-friendly atmosphere it provides for writers and artists. In addition to publishing comics from top talent like Frank Miller, Mike Mignola, Neil Gaiman, Gerard Way, and comics legend Will Eisner, Dark Horse has developed such successful characters as the Mask, Timecop, and SpyBoy. Additionally, its highly successful line of comics and products based on popular properties includes Star Wars, Indiana Jones, Buffy the Vampire Slayer, Aliens, Conan, Emily the Strange, Tim Burton, Trigun, Serenity, and Domo. Today Dark Horse Comics is the largest independent comic-book publisher in the US and is recognized as one of the world's leading publishers of licensed comics material.
Related posts: