Frank Miller Batman: The Dark Knight Returns #3 Splash Page Sells for Record-Breaking $448,125!
A few weeks ago, you may remember me posting the press release for Heritage Auctions' New York Signature® Vintage Comics & Comic Art Auction, May 5, at the Fletcher-Sinclair Mansion (if not, see here). Well, the star attraction of this auction was toted be the original artwork for an iconic splash page, featuring Batman & Robin, from The Dark Knight Returns #3, illustrated by Frank Miller and Klause Janson.
Heritage estimated that the piece would sell for just over $100,000. Well, a few minutes ago, the auction closed at a record-breaking $448,125! The highest amount ever paid for a piece of original artwork from an American comic book!
According to Mark Siefert of Avatar Press/Bleeding Cool the previous record for a piece of interior American comic art was set last year by a splash page from Amazing Spider-Man #50, from the famous "Spider-Man No More!" story, written by Stan Lee and drawn by John Romita Sr, which sold for $88,500.
Holy cow! This pages my Johnny Ryan and Guy Davis original pages seem worthless!
See below the image for Heritage's press release about the sale.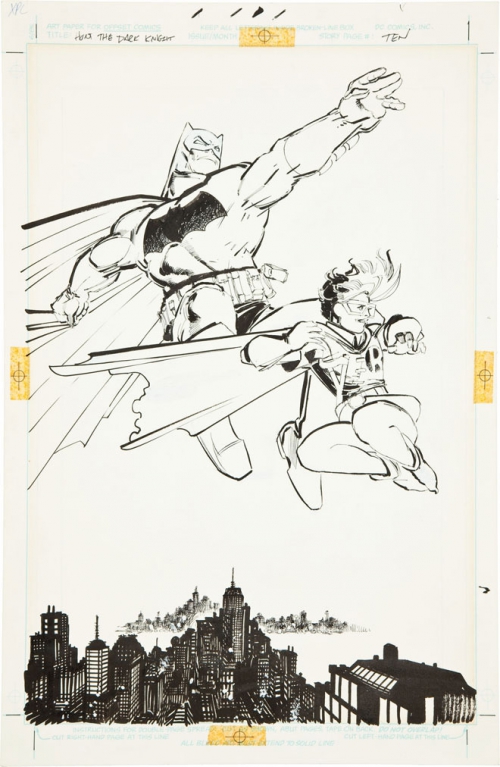 NEW YORK – The original art from Page 10, issue #3 of Frank Miller and Klaus Janson's Batman: The Dark Knight Returns (DC, 1986) became the single most valuable piece of American comic art to ever sell when it brought $448,125 as part of Heritage Auctions' May 5 Vintage Comics and Comic Art Auction. Final price includes 19.5% Buyer's Premium."Frank Miller's The Dark Knight Returns defined the best of 1980s comics, and has since been universally acknowledged as one of the most important and influential stories ever published ," said Ed Jaster, Senior Vice President of Heritage Auctions, "and no image from that important comic series is more iconic than this Splash Page. It's a little surprising, yes, but fitting that this piece is now the most expensive piece of American comic art ever sold at auction."

The piece was bought by an anonymous collector.

The image is the single most memorable image from the entire comic book series and the greatest image from the decade of the 1980s ever to come to market, as well as now standing as one of, if not the most desirable pieces of original comic art from any era to come to market. It is a perfect stand-alone image of Batman and Robin (Carrie Kelley, the first female, full-time Robin) soaring high above Gotham City, emblematic of the entire storyline.

"I've always loved that drawing," commented Miller, when asked before the auction what his thoughts on its imminent sale were. "Danced around my studio like a fool when I drew it. I hope it finds a good home."

The previous record price for a piece of original American comic book art was set last year when the cover of EC comics Weird Fantasy #29, by legendary artist Frank Frazetta sold via a private treaty sale for $380,000.

The public record for an American comic book cover was set last year with the $380,000 sale of the cover of EC title Weird Science-Fantasy #29 by Frank Frazetta.

"Frank Miller's original art work for the cover of Daredevil #188 sold for $101,575 last year," said Jaster, "so we knew there were serious buyer's out there, especially for Miller's top work. Now we know for sure what collectors are willing to pay. This piece is far away the current king. Nothing else has even come close."
Related posts: