comiXology Launches the Comics4Kids App
comiXology have announced that they will be launching a new digital comics app targeting young readers. The app will be called Comics4Kids and will make available nearly 175 comics from 15 publishers. It sounds like a good idea, but research has show that sticking "kids" in the name of something, makes kids less likely to get it. This is part of the reason that BOOM! renamed their BOOM! Kids line to Kaboom! Oh well, good luck to them!
Find out more below:
comiXology Brings Digital Comics to the Youth Market with Launch of Comics4Kids App
Archie Comics' Archie, Sonic the Hedgehog, Secret of Kells, Atomic Robo and dozens more in kid-friendly, parent-approved digital format for the iPhone, iPad and iPod Touch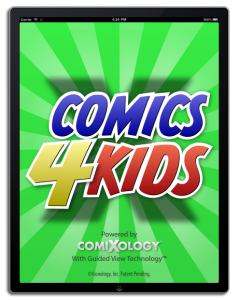 04.06.2011– New York, NY – comiXology, the leading distributor of digital comics, announced today the availability of their Comics4Kids app for the iOS. Specifically designed for young readers, Comics4Kids features titles from acclaimed publishers including Archie Comics, Image Comics and GKids (publishers of Secret of Kells) in addition to dozens of other classic comic titles.
The comiXology Comics4Kids app offers a creative outlet for kids to develop critical reading skills while challenging their imaginations. Established to provide parents with a trusted and kid-friendly application for digital comics, Comics4Kids will offer a distinctive set of classic and modern titles including Archie, Sonic the Hedgehog, Secret of Kells and Atomic Robo.
"Comics were a staple of my life growing up. I lived and breathed Archie as a kid, so I know how big of a role these books can play in children's development. Now, as an adult, I'm doing everything I can to ensure that today's generation of tech-oriented kids has the same opportunity through comiXology," said Jon Goldwater, CEO of Archie Comics.
Comics4Kids is one of the largest digital libraries of kid's comics available on mobile devices, marking comiXology's newest pursuit in engaging resources for child development.
"Comics4Kids is specifically designed for a new generation of tech-savvy kids and teens," said David Steinberger, CEO of comiXology. "We have parents writing us all the time that they love our apps, and want to share comics with their kids, but they're afraid they'll pick up one of our mature titles. I couldn't even hand my iPad off to my own young niece so I knew we needed to make an app for the kids who want to explore comics in an environment that makes their parents comfortable."
Available for free download in the iTunes store (http://itunes.com/apps/Comics4Kids), the app will enable kids to explore a new realm of possibilities in reading with the availability of nearly 175 comics from 15 publishers.
Publishers on board:
• Alterna Comics
• Antarctic Press
• Arcana Comics
• Archie
• Bluewater Comics
• GKids (Secret of Kells)
• Devils Due
• Dynamite
• Eigo Manga
• Image
• Keenspot
• Markosia
• NBM
• Red 5
• Shadowline
About comiXology
Since 2007 comiXology has been developing the technological infrastructure to bring comics into the digital mainstream and expose new audiences to the rich history and culture of the industry. Through partnerships with top comic book publishers including Marvel Comics, DC Comics, BOOM! Studios, Image Comics and TOKYOPOP as well as their own mobile and web apps which hosts over 7,600 digital titles, comiXology has become a leader in digital comic book proliferation. Also focused on creating strong ties with retail stores through its technology solutions, comiXology continues to transform the previously fragmented comic ecosystem into a vibrant and cohesive marketplace.
Related posts: