VIZ Media iPad Manga Madness Continues with Bakuman Digital Debut Ahead of Print Version
From the press release:
MARCH MANGA MADNESS EXCITEMENT CONTINUES FOR VIZ MANGA APP WITH DIGITAL MANGA FIRST –  BAKUMAN。VOLUME 4 DEBUTS TODAY, AHEAD OF PRINT COUNTERPART
BAKUMAN。Volume 1 Available For FREE Download For 24 Hours Starting Noon (Pacific) Today To Celebrate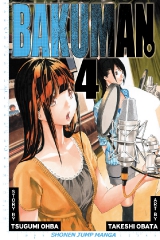 VIZ Media has excited fans and iPad users all month with its March Manga Madness promotion, and the celebration continues as the company announces its latest updates. In a digital manga first, BAKUMAN。Volume 4 debuts today on the VIZ Manga App, before the print edition's national release on April 5th. Volume 1 of BAKUMAN。will also be available for FREE download for 24 hours only starting at 12PM Pacific Time today. The VIZ MANGA APP is free through the iTunes Store, and manga volumes are available for purchase and download in the U.S. and Canada within the application.
VIZ Media similarly delights shojo fans as it launches Kaori Yuki's FAIRY CUBE. Volume 1 will be available through the end of March for only $0.99. New additions to 7 other popular manga series complete the latest round of updates.
The VIZ MANGA APP is the leading application to read Japanese manga on the iPad, with an extensive downloadable library of the most popular manga series in the world, and has this month surpassed 100 volumes available for download. As part of the March Manga Madness promotion, all Volume 1 titles are available this month for only $0.99 each (instead of $4.99). After shopping, fans should enter to win a $50 iTunes gift card by taking the VIZ Manga App survey. More than 100 manga volumes will be available for download by the end of March.
In FAIRY CUBE (rated 'T+' for Older Teens), Ian and Rin used to just see spirits. Now Ian is one. Using the Fairy Cube, Ian must figure out how to stop the lizard spirit Tokage from taking over his life and destroying any chance he has of resurrection. FAIRY CUBE is the series from gothic manga mastermind Kaori Yuki, who created ANGEL SANCTUARY, GODCHILD, and THE CAIN SAGA (all published by VIZ Media).
Twenty series are now available for download in the VIZ Manga App. Additional VIZ Media manga volumes available by this week include:
BLEACH Vol. 11
CLAYMORE Vol. 6
D. GRAY MAN Vol. 7
DRAGON BALL Z Vol. 2
NARUTO Vol. 19
ONE PIECE Vol. 19
VAMPIRE KNIGHT Vol. 5
The VIZ MANGA APP is available for free through the iTunes Store and all manga volumes are generally available for purchase and download in the U.S. and Canada within the application for $4.99 (U.S. / CAN) per volume. Readers are encouraged to check the app regularly, as new additions to the store and free Chapter 1 previews of other forthcoming manga series for the iPad are featured.
For more information on the VIZ MANGA APP, please visit www.VIZ.com/apps/.
Related posts: