Stumptown Release Party w/ Greg Rucka and Matt Southworth, at Bridge City Comics on Mar 25th
If you live in Portland, I'd highly recommend dropping by Bridge City Comics on March 25th, because both Greg Rucka and Matt Southworth will be at the store, to celebrate the release of Stumptown, Volume 1 HC, which collects the first four issues of the Oni Press series.
If you've not read any of Stumptown, then this is your chance to catch up on one of the best crime comics in recent memory. If you've already read the single issues, I'd still recommend picking this up, because Oni have done a beautiful job on the collection. I saw a pre-release version of the book at Emerald City Comicon and it looks well worth the cover price. The artwork looks even better collected, because Matt's had a chance to go back and fix a few things, to make it look more like how he intended it to look.

Press release: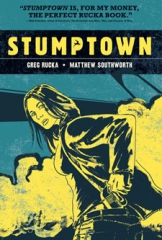 Bridge City Comics is proud to announce our Stumptown Release Party w/Greg Rucka and Matt Southworth on Friday, March 25, 2011 from 6pm – 8pm! This event is free to the public.
Award-winning author Greg Rucka and rising superstar artist Matt Southworth will be on hand to sign copies of Stumptown, the brand new hard cover graphic novel collection of their four issue miniseries of the same name. Stumptown is a hard-boiled detective story about a female P.I. in Portland. Copies of Stumptown will be available for purchase during the signing.
In addition, Bridge City Comics is teaming up with Stumptown publisher Oni Press to produce a limited edition print, featuring brand new
Stumptown artwork, for sale only at this event!
Bridge City Comics is located at 3725 N. Mississippi Ave in North Portland. Please call 503-282-5484 or e-mail [email protected] for more information.
About Stumptown:
Dex Parios is the proprietor of Stumptown Investigations, and a fairly talented P.I. Unfortunately, she's less adept at throwing dice than solving cases. Her recent streak has left her beyond broke - she's in to the Confederated Tribes of the Wind Coast for 18 large. But maybe Dex's luck is about to change. Sue-Lynne, head of the Wind Coast's casino operation, will clear Dex's debt if she can locate Sue-Lynne's missing granddaughter. But is this job Dex's way out of the hole or a shove down one much much deeper?
Related posts: