UDON Entertainment Announces Legendary Visions: The Art of Genzoman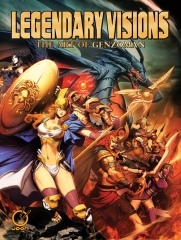 From the press release:
The heroes, villains, monsters, and gods of legend have captivated the imaginations of artists and audiences alike for millennia. Now, Chile's premiere fantasy painter captures these larger than life figures in LEGENDARY VISIONS: THE ART OF GENZOMAN, a new art book from UDON Entertainment.
LEGENDARY VISIONS collects the breathtaking works of artist Gonzalo Ordóñez Arias, also known as Genzoman! Inside you'll find spectacular renderings of the gods and heroes of ancient Greece, Egypt, South America, Scandinavia, Asia and more. Also included are fantastic interpretations of real life historical figures so amazing that they have become legendary themselves, such as Caribbean pirates, Japanese warriors, Middle Eastern royalty, and Egyptian pharaohs.
This 208-page full-color volume will make an excellent addition to any mythology or art book aficionado's collection! LEGENDARY VISIONS: THE ART OF GENZOMAN arrives in stores everywhere May 2011.
Pre-order LEGENDARY VISIONS now from amazon.com!
Artwork Gallery:
Related posts: