This Week's NYT Graphic Books Best Sellers List Released - Scenes from an Impending Marriage Debuts at #2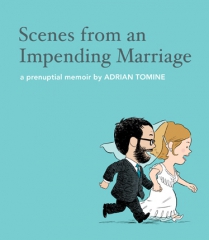 Adrian Tomine's fantastic OGN Scenes from an Impending Marriage debuted at #2 on this week's New York Times Best Seller's List, under the category of Hardcover Graphic Books. The number one spot for the week was taken by Saga of the Swamp Thing, Volume 4, which is the fourth an final collection of Alan Moore's work on Swamp Thing for Vertigo.
With 'Swamp Thing' being a collection that makes 'Scenes' the highest selling original graphic novel for the week. So huge congratulations to Adrian! If you've not yet picked up this fantastic book, run out and grab one now!
The only new release in the Paperback Graphic Book list for this week was Jack of Fables, Volume 8 by Bill Willingham and Matthew Sturges. The number one spot was again taken by Bryan Lee O'Malley's Scott Pilgrim's Precious Little Life, which is enjoying it's 48th week on the list!
Find the full graphic books best-sellers lists below:
Related posts: