The New York Times Pans Spider-Man: Turn off the Dark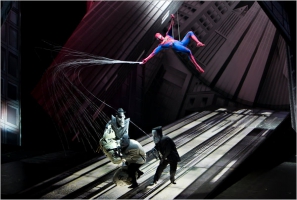 The New York Times has posted an early review of Spider-Man: Turn off the Dark, the Broadway musical inspired by Marvel Comics' The Amazing Spider-Man.
The New York Times is a highly respected publication, and their reviews tend to be incredibly well written, insightful, and always cut to the heart of the matter. So what did they think of Turn off the Dark? Well, they think it stank! To read the full review, head to http://theater.nytimes.com/2011/02/08/theater/reviews/spiderman-review.html, but here are a few highlights, or rather lowlights:
This production should play up regularly and resonantly the promise that things could go wrong. Because only when things go wrong in this production does it feel remotely right — if, by right, one means entertaining. So keep the fear factor an active part of the show, guys, and stock the Foxwoods gift shops with souvenir crash helmets and T-shirts that say "I saw 'Spider-Man' and lived." Otherwise, a more appropriate slogan would be "I saw 'Spider-Man' and slept."
The sheer ineptitude of this show, inspired by the Spider-Man comic books, loses its shock value early. After 15 or 20 minutes, the central question you keep asking yourself is likely to change from "How can $65 million look so cheap?" to "How long before I'm out of here?"
… there are lots of flat, cardboardish sets, which could easily be recycled for high school productions of "Grease" and "How to Succeed in Business Without Really Trying,"
Directed by Julie Taymor, who wrote the show's book with Glen Berger, and featuring songs by U2's Bono and the Edge, "Spider-Man" is not only the most expensive musical ever to hit Broadway; it may also rank among the worst.
Spider-man Turn of the Dark opens to the general public on march 15th.
Music and lyrics by Bono and the Edge; book by Julie Taymor and Glen Berger; directed by Ms. Taymor; choreography and aerial choreography by Daniel Ezralow; sets by George Tsypin; lighting by Donald Holder; costumes by Eiko Ishioka; sound by Jonathan Deans; projections by Kyle Cooper; masks by Ms. Taymor; hair design by Campbell Young Associates/Luc Verschueren; makeup design by Judy Chin; aerial design by Scott Rogers; aerial rigging design by Jaque Paquin; projection coordinator/additional content design by Howard Werner; arrangements and orchestrations by David Campbell; music supervisor, Teese Gohl; music direction by Kimberly Grigsby; music coordinator, Antoine Silverman; vocal arrangements by Mr. Campbell, Mr. Gohl and Ms. Grigsby; additional arrangements/vocal arrangements by Dawn Kenny and Rori Coleman; associate producer, Anne Tanaka; executive producers, Glenn Orsher, Martin McCallum and Adam Silberman. Presented by Michael Cohl and Jeremiah J. Harris, Land Line Productions, Hello Entertainment/David Garfinkle/Tony Adams, Sony Pictures Entertainment, Norton Herrick and Herrick Entertainment, Billy Rovzar and Fernando Rovzar, Jeffrey B. Hecktman, Omneity Entertainment/Richard G. Weinberg, James L. Nederlander, Terry Allen Kramer, S2BN Entertainment, Jam Theatricals, the Mayerson/Gould/Hauser/Tysoe Group, Patricia Lambrecht and Paul McGuinness, by arrangement with Marvel Entertainment. At the Foxwoods Theater, 213 West 42nd Street, Manhattan; (877) 250-2929; ticketmaster.com. Running time: 2 hours 45 minutes.
WITH: Reeve Carney (Peter Parker/Spider-Man), Jennifer Damiano (Mary Jane Watson), T. V. Carpio (Arachne), Patrick Page (Norman Osborn/the Green Goblin), Michael Mulheren (J. Jonah Jameson), Ken Marks (Uncle Ben), Isabel Keating (Classics Teacher/Aunt May), Jeb Brown (M J's Father), Mat Devine (Grim Hunter), Gideon Glick (Jimmy-6), Alice Lee (Miss Arrow), Jonathan Schwartz (Professor Cobwell), Laura Beth Wells (Emily Osborn), Matt Caplan (Flash), Dwayne Clark (Boyle/Busker) and Luther Creek (Kong).
Related posts: