Spider-Man: Turn Off the Dark Spokesman Reacts to Harsh Reviews with Insipid Whining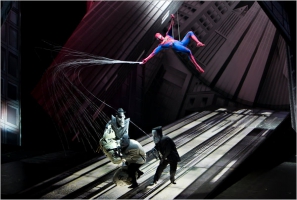 Yesterday morning, we posted excerpts from the New York Times' damming early review of Spider-Man: Turn off the Dark, the Broadway musical inspired by Marvel Comics' The Amazing Spider-Man. Since then, a number of other media outlets, including The LA Times, have published their own reviews of the production. I won't bore you by going through them all, but the general response has been overwhelmingly negative, with some particularly harsh criticism of the musical's flimsy plot, and the show's rock anthem score, composed by Bono and The Edge.
In the face of this harsh criticism, Rick Miramontez, a spokesperson for the production made the following statement to Entertainment Weekly:
"The PILE-ON by the critics was ridiculous and uncalled for. Their actions are unprecedented and UNCOOL!"
Erm, sorry? Where did they dredge up this spokesman from? Did he really just say that the reviews were "UNCOOL"? Take particular notice of the use of caps there!
Wow! That is just unbelievable! I don't hold up much hope for the production now. They should have just said nothing. The fact that this fool is the only person close to the production that was willing to say anything, is not a good sign. Clearly, they know that they have a stinker on their hands, and just don't want to even address the issue!
The show is set to open to the public on March 15th, after a number of postponements pushed the opening back from its original February 8th date.
Related posts: