Classics Are Back at BOOM! with Uncle Scrooge #400 in Stores February 2011
From the press release:
CLASSICS ARE BACK AT BOOM!
WITH THE MILESTONE
UNCLE SCROOGE #400 ISSUE
COMING THIS FEBRUARY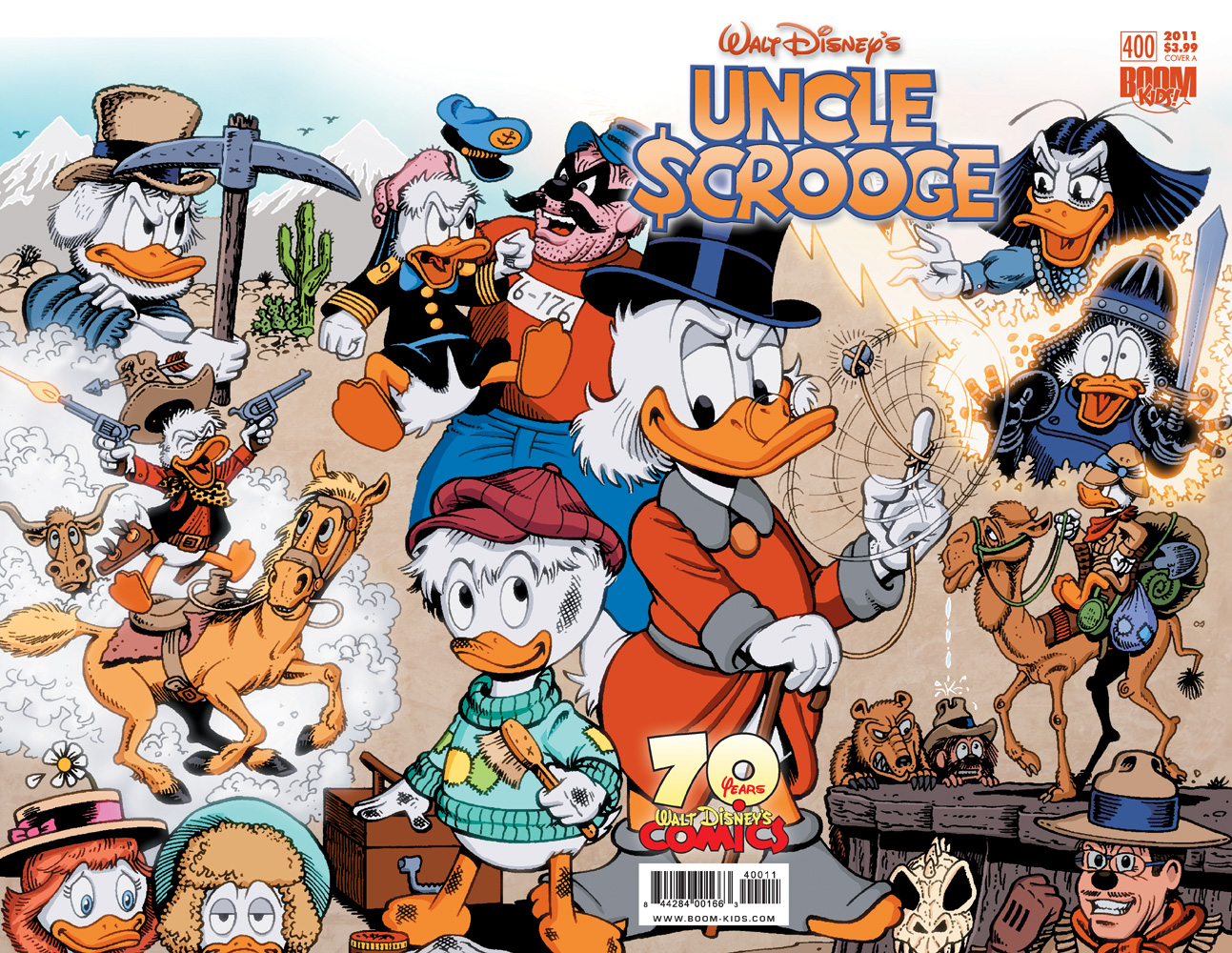 THE CELEBRATION OF THE 70TH ANNIVERSARY
OF WALT DISNEY'S COMICS AND STORIES CONTINUES!
UNCLE SCROOGE #400 FEATURES DISNEY MASTERS
CARL BARKS, DON ROSA, DAAN JIPPES, & GIORGIO CAVAZZANO
ALL IN ONE BOOK!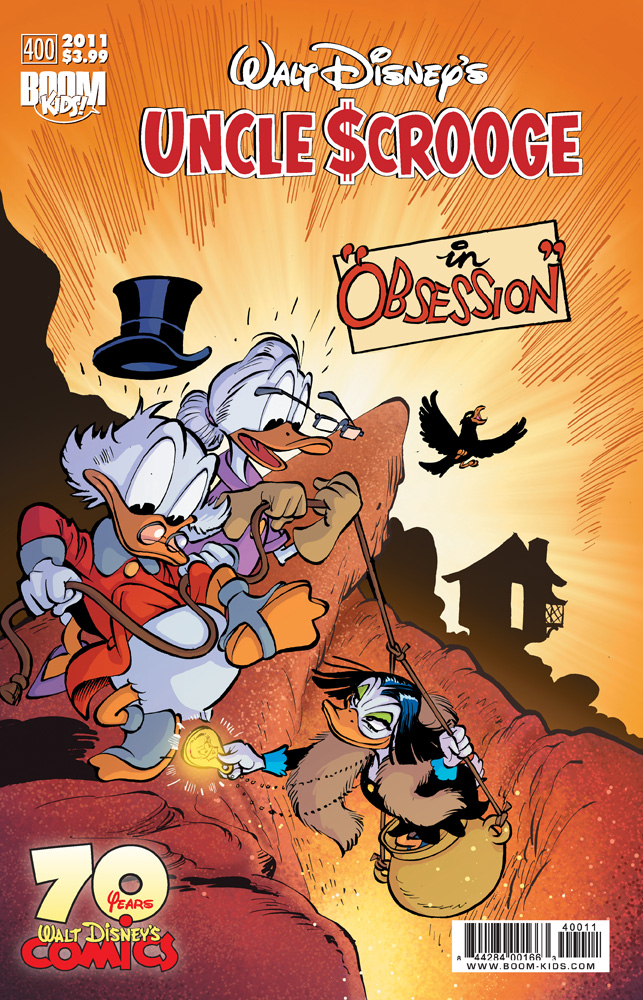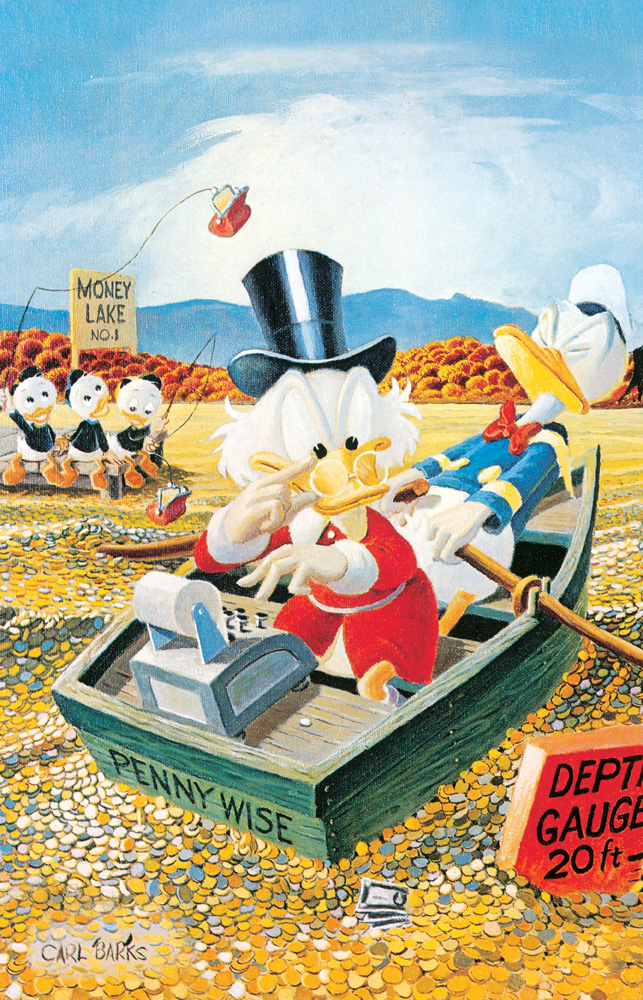 UNCLE SCROOGE #400 SHIPS WITH THREE COVERS
REGULAR EDITION WITH WRAP COVER BY DON ROSA
1-IN-10 COVER BY DAAN JIPPES
&
DELUXE EDITION BY CARL BARKS
December 20, 2021 - Los Angeles, CA - Join BOOM! as we mark 58 years of everyone's favorite feathered penny-pincher with the milestone UNCLE SCROOGE #400 issue featuring the amazing talents of Carl Barks, Don Rosa, Daan Jippes, and Giorgio Cavazzano! Join us as we pay tribute to the perennial Duckburg cheapskate with an oversized 40-page issue stuffed with classic stories not to be missed — some published in the U.S. for the first time! Shipping with three covers sure to please hardcore and casual fans alike, UNCLE SCROOGE #400 features a Regular Edition wrap-around cover by Don Rosa, a 1-in-10 cover by Daan Jippes, and a Deluxe Edition with cover by Carl Barks!
"The stories you'll find in UNCLE SCROOGE #400 are truly some of the rarest and greatest Scrooge tales ever published," said BOOM! Marketing Director Chip Mosher. "Fans demanded classic Scrooge tales, and trust me when I say there's no better place to start than UNCLE SCROOGE #400. How can you go wrong with Carl Barks, or Daan Jippes, or any of the amazing creators in this book?! And this is only the beginning. Classics are definitely back at BOOM!"
In this milestone 400th issue, don't miss the incomparable Carl Barks appearing as himself and actually meeting Scrooge McDuck and clan in Duckburg! It's a heartwarming tribute to Scrooge's creator by modern master Giorgio Cavazzano in "The Duck Man." Next, watch in awe as the witch, Magica de Spell, finally gets her hands on Scrooge's Number One Dime in the classic story "Obsession," seeing print in the U.S. for the first time, with art by master artist Daan Jippes! Then delight at three . . . count 'em, three . . . one-page gags by the one and only Carl Barks himself that appeared in the very first issue of Uncle Scrooge — "Osogood Silver Polish," "Coffee for Two," and "Soupline Eight."
In November, BOOM! Studios announced "Classics Are Back at BOOM!" beginning this January. Celebrating the 70th Anniversary of Walt Disney's Comics and Stories, January sees the release of WALT DISNEY'S COMICS AND STORIES #715 and MICKEY MOUSE #304 featuring some of Disney's most celebrated creators such as Carl Barks, Don Rosa, Daan Jippes, Floyd Gottfredson & more! The milestone 400th issue of UNCLE SCROOGE continues the celebration!
UNCLE SCROOGE #400 Regular Edition features a new, never-before-seen in the U.S. wrap cover by the legendary Don Rosa and 1-in-10 incentive cover featuring a brand new piece by the illustrious Daan Jippes. The Deluxe Edition features a reproduction of the amazing Carl Barks oil-painting "Money Lake." UNCLE SCROOGE #400 Regular Edition carries a price of $3.99 and a Diamond code of DEC100845, while the Deluxe Edition carries a price of $6.99 with a Diamond code of DEC100846. Both versions ship this February. Contact your local comic shop to pre-order at www.comicshoplocator.com.
About BOOM! Studios
BOOM! Studios (www.boom-studios.com) is a unique publishing house specializing in high-profile projects across a wide variety of different genres from some of the industry's biggest talents, including Philip K. Dick's DO ANDROIDS DREAM OF ELECTRIC SHEEP?, The Henson Company's FARSCAPE, and the original Mark Waid series IRREDEEMABLE. BOOM! recently launched its youth imprint, BOOM Kids!, with Pixar's THE INCREDIBLES, CARS, and TOY STORY, as well as Disney's THE MUPPETS, DONALD DUCK, UNCLE SCROOGE and WALT DISNEY'S COMICS AND STORIES. This year, BOOM! Studios celebrates its fifth anniversary.
About Disney Publishing Worldwide
Disney Publishing Worldwide (DPW) is the world's largest publisher of children's books and magazines, with over 250 million children's books and over 400 million children's magazines sold each year. Disney Publishing Worldwide includes the vertically integrated publishing imprints Disney Book Group in the U.S., Disney Libri in Italy and Libros Disney in Spain as well as an extensive worldwide licensing structure. DPW also publishes a range of children's magazines globally including Topolino, Le Journal de Mickey and Donald Duck as well as Disney FamilyFun in the U.S. Disney English is DPW's English language learning business, including Disney English centers in China and a worldwide retail licensing program.  Headquartered in White Plains, NY, Disney Publishing Worldwide publishes books and magazines in 85 languages in 75 countries.
Related posts: