BOOM! Studios to Reprint The Life & Times of Scrooge McDuck!
From the press release:
THE WAIT IS OVER!
EISNER AWARD-WINNING
LIFE & TIMES OF SCROOGE MCDUCK
FINALLY BACK IN PRINT!
VOL. 1 IN STORES NOW
VOL. 2 HITS STORE SHELVES THIS WEEK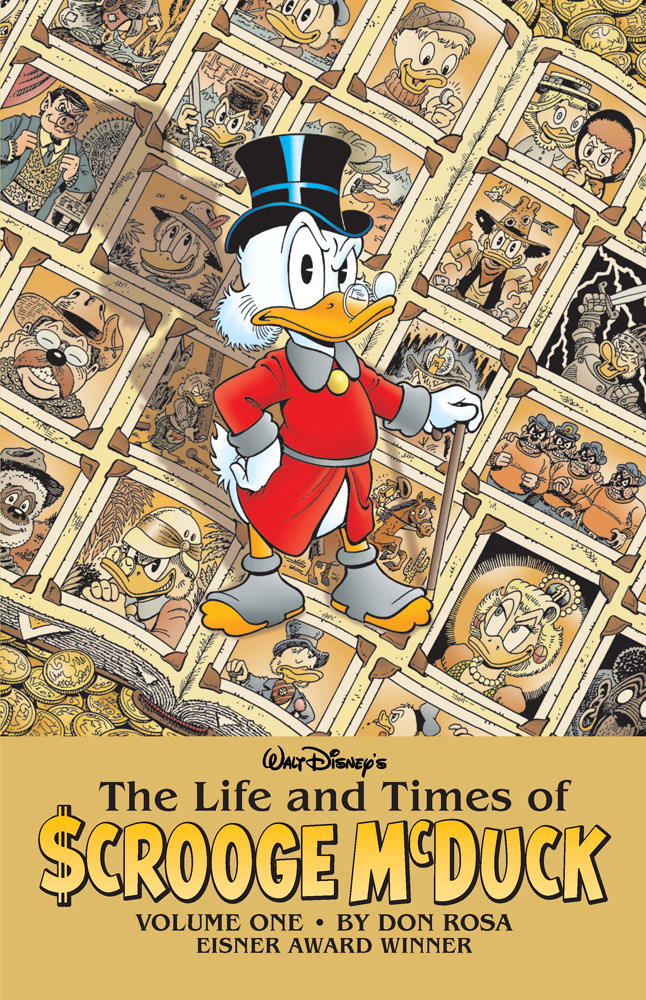 Greed is Good!
April 12, 2021 - Los Angeles, CA - BOOM Kids! proudly brings back to print Don Rosa's Eisner award-winning masterpiece THE LIFE AND TIMES OF SCROOGE MCDUCK this year in a two-volume deluxe hardcover set. These gorgeous hardcovers feature an all new cover design, smyth sewn binding, a gold-on-gold foil-stamped case wrap and a gold bookmark ribbon — features befitting our favorite miser, Scrooge McDuck! Both volumes also feature commentary from legendary cartoonist Don Rosa!
THE LIFE AND TIMES OF SCROOGE MCDUCK Volume 1, collecting the first six chapters, is available in stores now, with THE LIFE AND TIMES OF SCROOGE MCDUCK Volume 2, collecting the subsequent six chapters, available this week.
Written and drawn by renowned artist Don Rosa, THE LIFE AND TIMES OF SCROOGE MCDUCK chronicles the fascinating history of the richest duck in the world. See how Scrooge earned his 'Number One Dime' and began to build his fortune!
"What Rosa did in retelling the earliest events of one of Disney's most memorable characters was a triumph of storytelling and a tribute to our medium," said BOOM Kids! editor Aaron Sparrow. "We're proud to be able to get this book back into print, and in an edition that would make Scrooge McDuck himself envious!"
THE LIFE AND TIMES OF SCROOGE MCDUCK Hardcover Volume 1, out now, is 128 pages, has a suggested retail price of $24.99 and carries a Diamond Code of AUG090745. THE LIFE AND TIMES OF SCROOGE MCDUCK Hardcover Volume 2, out this week, will be 144 pages, has a suggested retail price of $24.99, and carries a Diamond Code of JAN100831.
About BOOM! Studios
BOOM! Studios (www.boom-studios.com) is a unique publishing house specializing in high-profile projects across a wide variety of different genres from some of the industry's biggest talents, including Philip K. Dick's DO ANDROIDS DREAM OF ELECTRIC SHEEP?, The Henson Company's FARSCAPE, and the original Mark Waid series IRREDEEMABLE. BOOM! recently launched its youth imprint, BOOM Kids!, with Disney/Pixar's THE INCREDIBLES, CARS, and TOY STORY, as well as Disney's THE MUPPETS, DONALD DUCK, UNCLE SCROOGE and WALT DISNEY'S COMICS AND STORIES. This year, BOOM! Studios celebrates its fifth anniversary.
About Disney Publishing Worldwide
Disney Publishing Worldwide (DPW) is the world's largest publisher of children's books and magazines, with over 250 million children's books and over 400 million children's magazines sold each year. DPW's business units include: Disney Global Magazines, Disney English, and Disney Global Book Group. Disney Global Books and Global Magazines encompass a extensive worldwide licensing structure; Disney Book Group consists of vertically integrated publishing imprints in the U.S. which include Disney Editions, Disney-Hyperion, Disney-Jump at the Sun and Disney Press. In addition, Disney Libri, DPW's Italian vertical operation, publishes books for children of all ages. DPW's Global Magazines publishes a range of children's magazines globally and also family titles in the U.S., which include: Disney FamilyFun and Disney en Familia. Disney English is DPW's English language learning business, including Disney English schools in China and a worldwide retail licensing program. Headquartered in White Plains, NY, Disney Publishing Worldwide publishes books and magazines in 85 languages in 75 countries.
Related posts: